The Occupation Authorities Demolish Retaining Walls in A Plot in Duma village / East Nablus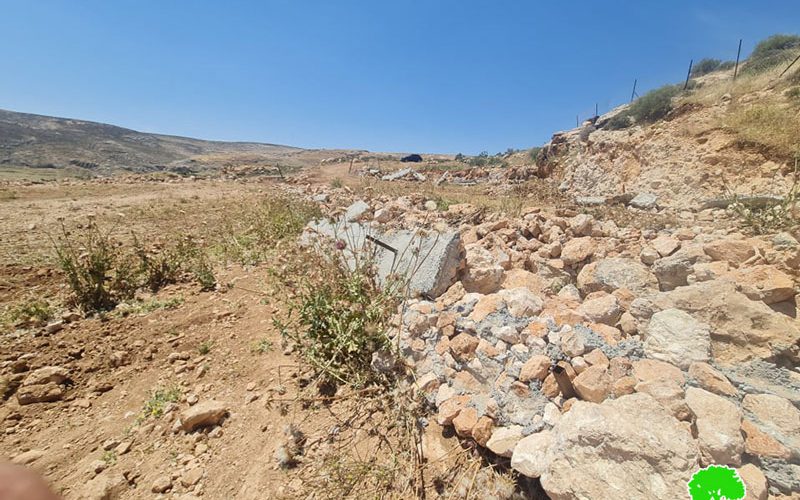 Violation: Demolition of Retaining Walls.
Location: Duma village / Nablus Governorate.
Date: May 2nd 2022.
Perpetrators: The Israeli Civil Administration.
Victims: Citizen Munawar Dawabsha.
Description:
In the early morning hours of May 2nd 2022, and about 5:30 am a massive army force accompanied by two military bulldozers raided Duma village southeast Nablus city, and arrived at "Al-Wastat" location southeast the village to a plot belongs to citizen Monawar Dawabsha (38 years , with a family of 7) , where they ravaged and demolished a land , retaining walls, saplings and a siege.
The affected citizen told LRC: "I was shocked this morning, the first of Eid Al-Fitr with a massive army force that composes of 8 military trucks and 2 bulldozers demolishing the wall and ravaging the land and the plants in his plot south east the village , explaining that the ravages destroyed 1000 m2 , and uprooted 100 olive saplings.
Photos 1-4: The Demolished wall at Dawabsha plot
Dawabsha said that he has been working at the plot for two years, and spent 150 thousand shekels in 6 dunums , where he planted 100 olive trees and built retaining walls , about 1000 m * 1 m high , that was surrounded with a siege about 1000 m to be protected from wild animals.
Dawabsha received 96 hours, issued in February 13th 2022 , in reference to military order number 1797 , which was issued to demolish buildings and facilities in area "C" after 96 hours.
For more information read LRC Report
The affected citizen went to Duma village council once he found the notice, which gave instructions to submit a  legal file , we also contacted the Jerusalem Legal Aid Center and the Colonization and Wall Resistance Commission but no results were accomplished , and the occupation completely destroyed the structures in the morning of May 2nd 2022.
Duma village:[1]
Duma is a Palestinian village in Nablus Governorate, located southeast of Nablus City. It is bordered by Al Jiftlik and Fasayil (in Jericho Governorate) to the east, Majdal Bani Fadil to the north, Qusra and Jalud to the west, and Al Mughayyir (in Ramallah Governorate) to the south.