The Israeli Occupation Sat Up 4 metal gates on Qilqis entrance / South Hebron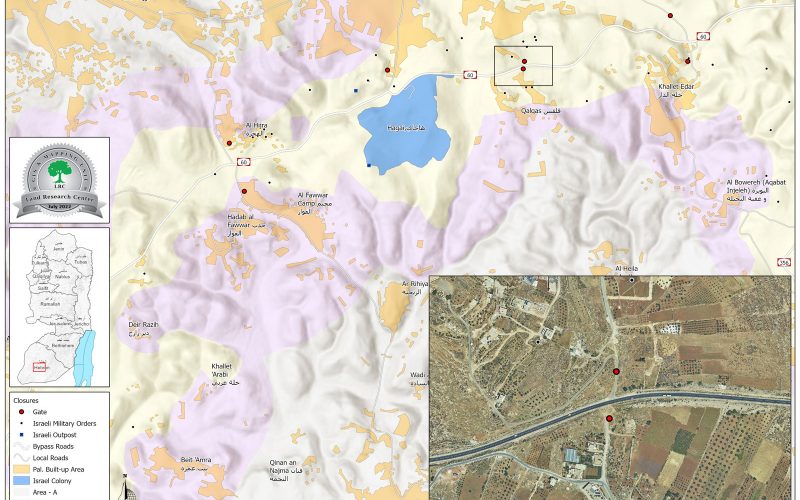 Violation: setting up 4 metal gates.
Date: May 23rd 2022.
Location: Khirbet Qilqis / Hebron city.
Perpetrator: The Israeli Occupation forces.
Victims: People of Khirbet Qilqis.
Description:
The Israeli Occupation forces sat up metal gates on the entrance of Khirbet Qelqis south Hebron city, after reopening the entrance which had been closed 20 years ago.
Hebron municipality managed to open an entrance to the Khirbet, and installing a rotation road on the part that connects bypass 60 to the khirbet local road.
The main road was opened at the end of 2021 after 20 years of closures, the occupation forces used to ravage the entrance and closing it with earth mounds and cement blocks, during these years citizens and students were suffering every time they crossed the street.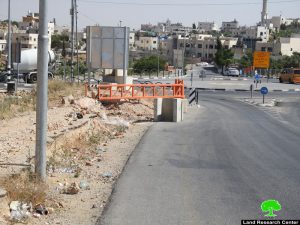 Photos 1-3: metal gates that the occupation sat on Qilqis entrance
In addition, The Occupation authorities installed about four booths for troops. Metal gates are a method to impose restrictions on citizens' movement.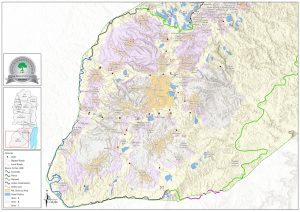 Noteworthy, the occupation forces installed 32 metal gates on Hebron entrances and they are listed in the following:
#

Village/ town / refugee's camp

Metal gate location

link

from

to

1.      

Ad-Dhaheriya

Rabud village

Bypass 60

Ad-Dhaheriya

2.      

Dura

Al-Fawwar Junction

Bypass 60

Dura

3.      

Al-Fawwar Refugee's camp

Al-Fawwar Junction

Bypass 60

Al-Fawwar Junction

4.      

Susiya village

West the village

Susiya village

Yatta town

5.      

Yatta town

Zeef junction

Road 317

Yatta town

6.      

As-Samou' town

As-Simya village

Bypass 60

As-Samou' town

7.      

Beit 'Einun junction

Beit 'Einun junction

Bypass 60

Beit 'Einun village

8.      

Beit 'Einun junction

Beit 'Einun junction

Bypass 60

Hebron city

9.      

Beit Ummar town

The village entrance

Bypass 60

Beit Ummar town

10.                         

Al-'Arub refugee's camp

A cross the road from Palestinian Technical University

Bypass 60

Al-'Arub refugee's camp

11.                         

Al-'Arub refugee's camp

Nearby the troops' booth

Bypass 60

Al-'Arub refugee's camp

12.                         

Beit 'Awwa town

Al-Buqa'a area 

Beit 'Awwa

Dura town

13.                         

Al-Majd village

Al-Buqa'a area 

Beit 'Awwa

Al-Majd village

14.                         

Fqaiqis village

Nearby "Negohot"

Dura town

Al-Gharboya villages

15.                         

Adh-Dhaheriya town

Wadi Al-Khalil

Adh-Dhaheriya town

Adh-Dhaheriya crosspoint

16.                         

Surif town

North the town

Surif town

Jaba'a village

17.                         

Idhna town

Al-Liya area

Road 35

Idhna town

18.                         

Hebron western entrance

Farsh Al-Hawwa

Road 35

Hebron city

19.                         

Beit 'Awwa town

Al-Buqa'a area

Dura town

Al-Buqa'a junction

20.                         

Hebron southern entrance

Al-Fahes area

Bypass 60

Hebron city

21.                         

Yatta town

Al-Fahes area

Bypass 60

Yatta town

22.                         

Idhna town

Tarqumiya

Road 35

 Lands of Idhna and Tarqumiya

23.                         

Wad Ash-Shajneh village

The village entrance

Wad Ash-Shajneh village

Adh-Dhaheriya – Hebron street

24.                         

Bani Na'im village

Yaqin village

Bypass 60

Bani Na'im town

25.                         

Al-Buqa'a

Aj-Jalajil

Bypass 60

Aj-Jalajil village

26.                         

Kharsa village

Kharsa Junction

Dura town

Western villages

27.                         

Kharsa village

Kharsa Junction

Dura town

Western villages

28.                         

Kharsa village

Kharsa Junction

Dura town

Dura southern villages

29.                         

Halhul

Al-Hawawir junction

Bypass 60

Halhul town

30.                         

Qilqis

The Khirbet Entrance

Leads to Hebron city

To the Khirbet