Settlers made holes in two water tanks in the village of Al-Mughayer, Ramallah and Al Bira Governorate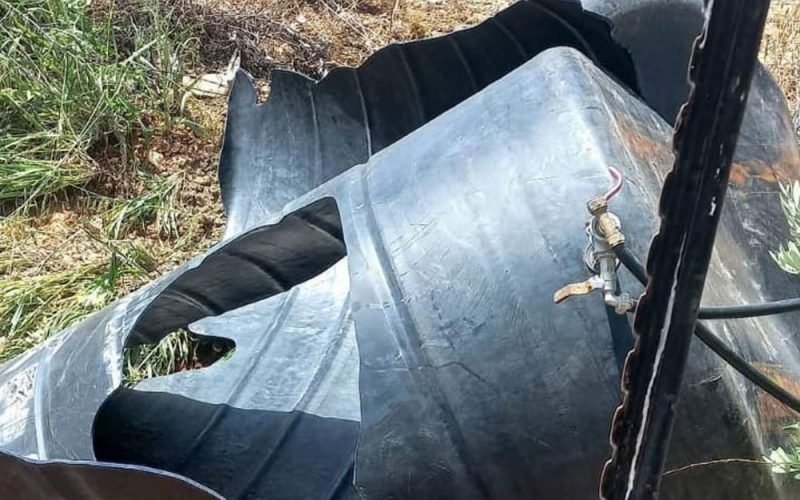 Violation: vandalizing of two water tanks.
Location: Jabet – Al-Mughayer village,  Ramallah and Al-Bire governorate.
Violation date: 07/05/2022.
The perpetrator: a group of settlers.
Affected party: farmer Yasser Hamed Hajj Muhammad.
The violation details:
 On Saturday, May 07, 2022, a group of settlers from the colonial outpost located on the lands of Khirbet Jab'et made holes in two plastic water tanks each with a capacity of 1.5 m3 using sharp tools.
The targeted tanks are used to provide irrigation water for about 50 olive saplings planted in 7 dunums of agricultural land in the "Jeb'et" area. The cultivated land is owned by Mr. Yasser Hamed Hajj Muhammad, a resident of Al-Mughayer village, who supports a family of 8 individuals, including 2 children and 4 Females. The affected farmer, Mr. Yasser Muhammad, gave the LRC's field researcher the following account: "Last February, I planted 50 olive seedlings in my land, fenced it and placed two water tanks in it for the purpose of watering my plants. However, in last April, I was handed over a military notice ordering me to vacate the land on the pretext of being "state land". But, I didn't comply with the occupation's notice, and today the settlers attacked my land with the aim of putting pressure on me to leave the land.  The two vandalized water tanks are the only source of irrigation water for my plantations as the occupation prevents the access of mobile water tanks to that area".
| | |
| --- | --- |
| | |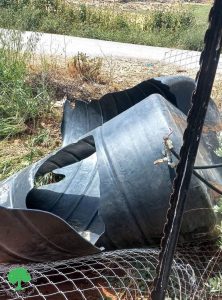 It is noteworthy that the village of Al-Mughayer is considered one of the areas which have been targeted by the occupation since a long time, as it is a besieged by the settlement of "Adi Ad" from north and west as well as by the bypass road known as the "Alon" road from south and east. This road tears the lands east of the village into scattered parts making them vulnerable to continuous attacks by settlers and the occupation army. These attacks are represented in the destruction of cultivated lands, the vandalism of farms and trees, in addition to depriving farmers and land owner from accessing the area under the pretext of being located in zone C.  
Prepared by
 The Land Research Center
LRC