Halt of Work Notice on the Pretext of "Assaulting Antiquities" in 'Azzun town / Qalqilya governorate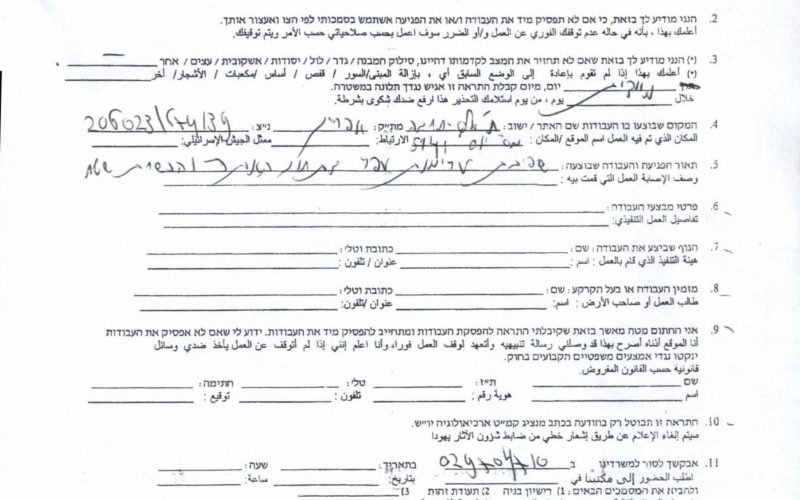 Violation: Halt of Rehabilitation on an agricultural land.
Location: 'Azzun town / Qalqilya city.
Date: April 17th 2022.
Perpetrators: The building inspector at the Israeli civil administration.
Victims: Farmer Adam Bedwan.
Description:
Saturday Morning, About 10:00 am , the Israeli occupation authorities raided 'Azzun town in Qalqilya governorate, and headed to the northern part of the village targeting a plot that is currently goes through rehabilitation works in "Kafayef Njas" area in natural block 10 of of 'Azzun. Reportedly, The targeted plot has a total area of three dunums , and belong to farmer Adam Bedwan (42) from 'Azzun town , the affected received a military order numbered (981) issued by Antiquities officer at the Occupation authorities , that ordered to demolish what was built of stones and retaining walls , on the pretext of building in an antiquities area.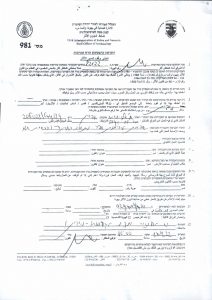 Notice number 981 which target a plot belongs to citizen Adam Bedwan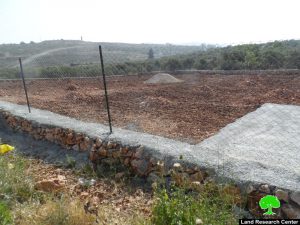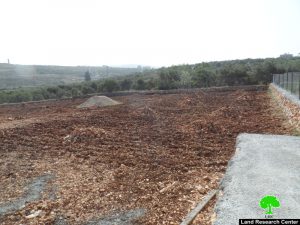 Photos 1+2 : The targeted plot
Affected farmer pointed out: "A year ago, I bought a plot and I recently started rehabilitating it in order to plant it with Olive trees , I also installed a siege around it, but I was shocked with a military notice claiming that the area is an antiquities site, while in fact nothing indicates that any antiquities were at the area.
The only thing I could do was to file an objection with the help of a legal aid institution, noting that I support a family of 6 , 2 of them are children."
Noteworthy, The Occupation Authorities announced a large area of 'Azzun as "State properties" , and another part as natural reserves. In other words, the occupation is imposing heavy restrictions on land use, as a result a large portion of the area's residents had left.
About Azzun:[1]
Location: 'Azzun town is located on the road between Nablus and Qalqilya known as bypass 55 , 23 km west Nablus , 9 km east Qalqilya , 22 Km south Tulkarm city , connected to Ramallah with a paved road that reaches to villages of Kufur Thulth , Masha , Deir Ballut , Birzeit , during the Jordanian Rule to Palestine a military road , consequently 'Azzun is surrounded by many villages:
North: Sear , Jayous , Kufur Jamal , Kufur 'Aboush , Kufur Zibad, Kufur Sour.
South: Kufur Thulth , Senirya, Masha, Bidya , Az-Zawiya.
West: An-Nabi Elyas , 'Asla.
East: Kufur Laqif, Jinsafut , Hajja , Baqat Al-Hatab, Amatin , Fara'ata , Jit , Kufur Qadum , Sarra.
Area and People:
'Azzun has  a total area of 24 thousand dunums, it reaches to the west to Habla and Qalqilya lands , and to the east to Kufur Laqif and Deir Istiya , and to the west , towards the green line to 'Azzun forest known locally as (Tabsur),  but illegal Israeli Colonists however  call it Re'anana , only 9139 dunums remained out of 24 000 dunums , of which only 1209 are a built up area for the town.
According to 2017 census, 'Azzun has a population of 11256 people , and it includes many hamlets and/or small villages like Asla , An-Nabi Elyas , 'Azbet At-Tabeeb.
Colonization in 'Azzun:
The occupation confiscated 903 dunums for the construction of settlements:
"Ma'ale Shemron" , established in 1980 , ate up 1903 dunums, with a built up area of 216 dunums , and populates 549 illegal settlers.
Ghanat Shamron establishe din 1985 , with a built up area 484 dunums.
Karnei Shamron , established in 1978 , with a total area of 7339 dunums , built up area 1351 dunums , and a population of 6270.
[1] GIS-LRC