The Occupation Confiscated Containers and Ravaged a Plot in Khirbet Qilqis / South Hebron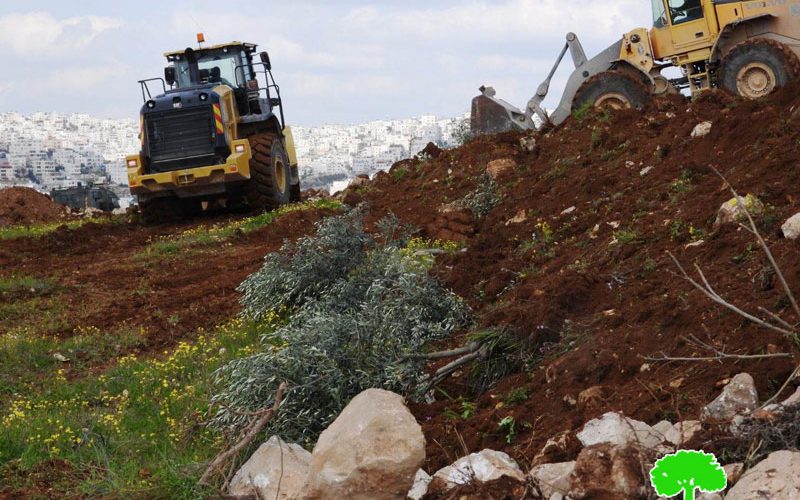 Violation: Confiscating containers and ravaging lands.
Date: March 22nd 2022.
Location: Khirbet Qilqis / South Hebron.
Perpetrators: The Israeli Civil Administration.
Victims: M'utasim Wazwaz and Jihad Abu 'Ajamiya.
Description:
March 22nd 2022, the Israeli Occupation confiscated metal containers, ravaged a plot, and uprooted trees in Khirbet Qilqis.
About 10:00 am , a massive army force accompanied by a vehicle from the civil administration , two bulldozers and a crane truck , stormed the area and confiscated containers belong to citizen Mu'tasim Wazwaz, the containers were used to store fuel cans.
The two stores were placed at Qilqis village entrance, to provide a source of income for his family of (8 members, among them 5 children), the owner said that the occupation forces confiscated the containers without any previous notices.
Photos 1+2: Confiscating metal containers – Qilqis town
After the confiscation, the forces went to a plot belongs to citizen Jihad Au 'Ajamiya , and the accompanying bulldozers ravaged a plot and its surrounding of trees.
 The targeted plot has a total area of 4 dunums, and the surrounding retaining walls are (500 m * 1.5 m).
The operation also included uprooting the planted trees for 15 years , and they are about 30 olive trees and 20 almond trees.
According to Abu 'Ajamiya , the ravaging was implemented without any previous notices.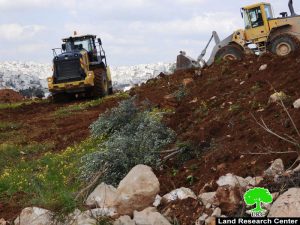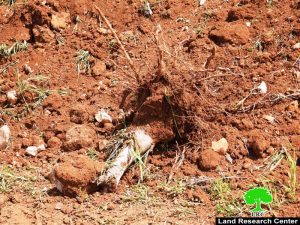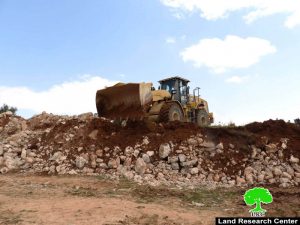 Photos 3-5: Ravaging lands belong to Abu 'Ajamiya – Khirbet Qilqis
Qilqis village has a population of 2000 people , and located to the south of Hebron city. Bypass 60 passes through the northern side of Qilqis , which the occupation authorities had isolated from Hebron city (20 years ago) , through imposing closures and prohibiting farmers from taking the bypass road (60).
Legal Commentary:
The demolition of Palestinian homes and structures by the occupation authorities is part of their violations of international and humanitarian law, and the violation of the right to adequate housing for Palestinian citizens guaranteed by international law and international treaties presented by the following articles:
The Fourth Geneva Convention, Article 147, stipulates that "extensive destruction and appropriation of property, not justified by military necessity and carried out unlawfully and wantonly" is a "grave breach" of the Convention.
Article 53 of the Fourth Geneva Convention of 1948 prohibits the destruction of property, as this article states the following: "The occupying power is prohibited from destroying any private, fixed or movable property related to individuals or groups, the state or public authorities, or social or cooperative organizations, unless the war operations inevitably require this destruction.
Article 33 of the Fourth Geneva Convention states: "No protected person may be punished for an offense he or she has not personally committed.
Paragraph 'g' of Article 23 of the Hague Convention of 1907 AD also warned against destroying or seizing the enemy's property, unless the necessities of war necessarily require such destruction or seizure.
Prepared by
 The Land Research Center
LRC