Eviction Notice for a Plot in As-Sindas Mount / South Hebron City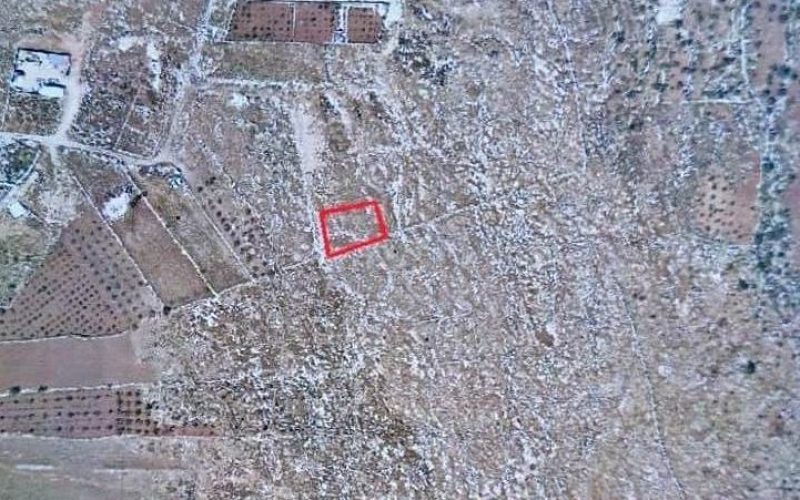 Violation: Eviction notice for a plot.
Date: March 2nd 2022.
Location: Jabal As-Sindas / South Hebron City.
Perpetrators: The Israeli Civil Administration.
Victims: One of the Palestinians living in Hebron.
Description:
Wednesday, March 2nd 2022, the Israeli Occupation Authorities issued a notice of eviction for a plot in "Jabal As-Sendas" area south Hebron city on the pretext that it is classified as state property.
About 12:00 pm, a white vehicle belongs to the Israeli Civil Administration arrived at a plot located south Hebron city , a civil administration officer got out , and served a notice (3 copies) , and posted them on 3 spots at the targeted location , then took pictures of the notices and hanged them on the wall.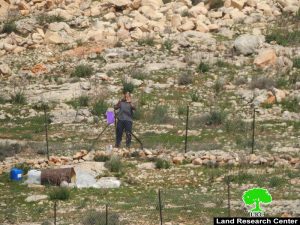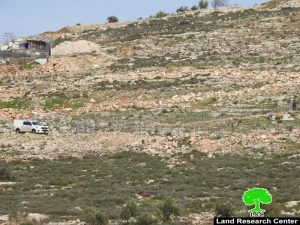 Photos 1+2: When the occupation authorities raided the targeted plot and served a
The Notice was issued by the (Civil administration – The Responsible on Colonization and Wall Resistance Commission –  Central inspection unit) under the title eviction notice number (001087) , attached to an aerial photo that shows the targeted plot.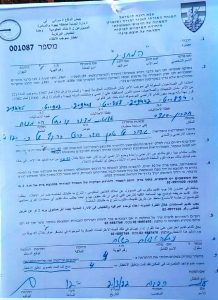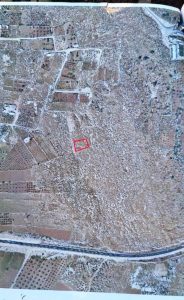 Eviction notice number 001087 and the attached aerial photo
In the notice the occupation authorities ordered to raise hand off the plot within 45 days after serving the notice, the occupation authorities claims that this is a violation of a "state property", which means that it was confiscated from its owner and became a property of the Israeli government.
Reportedly, The targeted plot has a total area of (1 dunum) , surrounded with retaining walls about 1.5 m long , and surrounded with barbed wires fixed on metal angles on the four sides.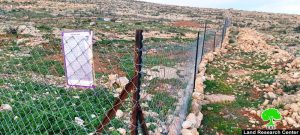 Photos 3-5: The targeted plot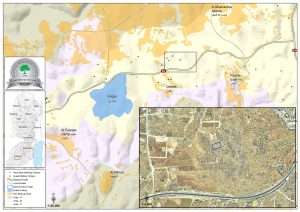 Eviction of land , means that the owner should remove every plant , demolish retaining walls , cisterns , and agricultural services structures , to return the location as if it was never used.
The occupation authorities implement an "eviction" operation , through providing machineries to the targeted location , ravage everything , and prohibit the owner from using it.