Cutting and sabotaging 200 olive saplings in "Khallet Hassan" north Bidya / Salfit governorate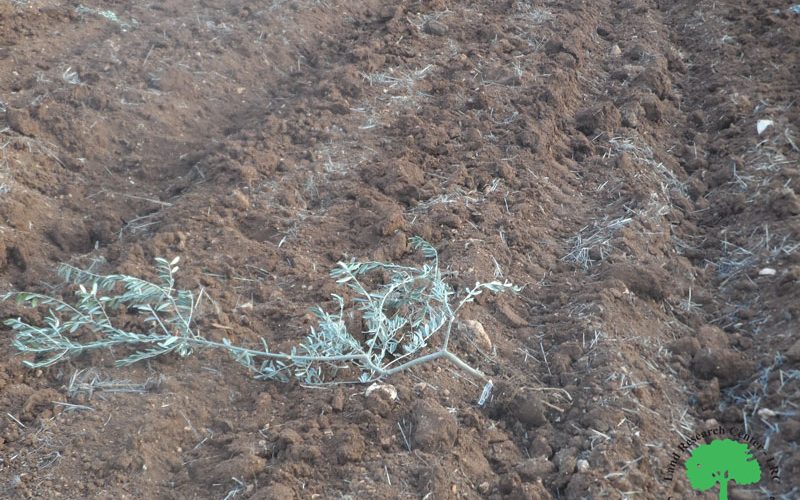 Violation: Cutting and sabotaging olive saplings.
Location: Khallet Hassan north Bidya / Salfit governorate.
Date: March 16th 2022
Perpetrators: A group of colonists.
Victims: Farmer 'Azmi Taha.
Description:
 Wednesday, March 16th 2022, a group of colonists gangs raided Khallet Hassan north Bidya town, and stormed a plot with a total area of 9 dunums, and cut 200 olive saplings newly planted in the plot that belongs to farmer 'Azmi Taha (61) from Bidya town.
Not only that colonists uprooted the saplings , but also threw them to the ground, to make sure that the owner won't ever be able to use them again.
According to the affected, the plants were planted in early January, noting that the plot used to be cultivated with beans, and it is located only 800 m away from the town's houses , he was shocked to see that colonists ripped them from the ground. However , Taha supports a family of 9 , among them 4 children , and 3 females.
During the past year, 9 similar attacks were reported in Khallet Hassan , and olive trees are  usually targeted , it is obvious that colonists  compose gangs that carry out vicious attacks against farmers.
Khallet Hassan North Bidya, is targeted by the Israeli occupation especially in land grabs. since 1983 , Israeli companies  imposed control over 1200 dunums, the Colonization and Wall Resistance Commission was able to get back 900 dunums, the company used false evidence to claim they own the property.
The Occupation sees that Khallet Hassan Is a potential area to create geographical link between Karnei Shamron, Ma'ale Shamron , Novem, and Jev'at Ya'er, which will confiscate vast areas of lands.
People of Bidya are spending their time and resources to rehabilitate their lands in Khallet Hassan , which makes the occupation carry out vicious violations with the objective to kepp the lands empty for future colonial expansion
Bidya town:[1]
Bidya is located 25 km south east of Nablus city and surrounded by Deir Istiya and
Kafr Thulth (north), Seneria , Masha, and Az-Zawiya (west) , Qarawat Bani
Hussan and Sarta (east), and Kafr Ad-Deek (south).
Bidya has a population of (10,451) people according to  2017 census.
Bidya has a total area of 13,827 dunums , of which 1,367 dunums are a built
up area.
The occupation confiscated 637 dunums of its land for the following purpose:
 17 donoms were confiscated for the expansion of Ariel" colony from 1999;
 620 dunum were seized for the building of   Bypass roads 505 and  5;
 The Israeli Occupation is planning to construct a segment of the
Annexation and Expansion wall on the town's lands. (the plan is to construct
a 4118 m segment, which will eat up 411 dunums and isolate 3,690 dunums behind it.
Oslo accords classified the town's lands as the following:
–    (B) area : 2,045 dunums.
–    (C ) area: 11,782 dunums.
[1] GIS-LRC
Prepared by
 The Land Research Center
LRC