The Occupation Authorities Force Two Citizens to Demolish their Own Structures / Hebron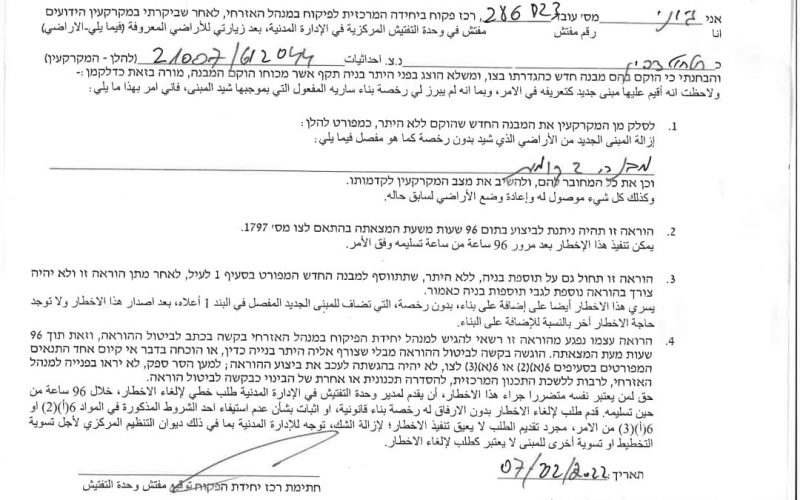 Violation: Forcing two citizens to demolish their own structures.
Date: February 13th 2022.
Location: Halhul and Beit Ummar/ Hebron governorate.
Perpetrators: The Israeli Civil Administration.
Victims: 'Ammar Hneihen and Mohammed Al-'Alamai.
Description:
The Israeli Occupation Authorities forced two citizens from Halhul and Beit Ummar to demolish their own structures after giving them 96-hours notices, and threatened to make them pay a large fine in case they did not carry out the demolition.
Self-Demolition in Halhul town:
In February 13th 2022, Citizen 'Ammar Hunihen demolished a structure built of wooden boards fixed on metal columns and a tiles ceiling, after he received a notice of demolition and removal issued in February 7th 2022, that ordered the owner to demolish the structures in 96 hours on the pretext of building without a license.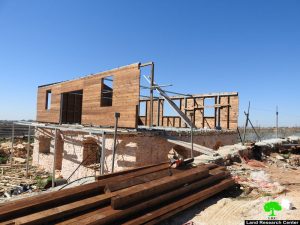 Photos 1-3: Demolition operation in Halhul
Hneihen (47) said:
I own a plot that I inherited from my father in Al-Hawawir area north Halhul , and built a two floor house , the first floor is built of woods and the second is built of wood and tiles , the two floors have a total area of 280 m2 , and still under construction. The house is a home for a family of 11, before the construction I applied for a license to the occupation authorities. But after I finished the construction, I was shocked of a vehicle belongs to the building and organization department raiding the area, and delivering a 96-house notice, which means that the licensing application was rejected.
Photo 4+5: The License application and space plan receipt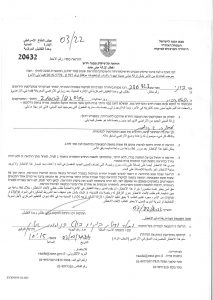 Photo 6: a notice for Hneihen citizen
Once the owner received a demolition notice, he carried out the demolition with electric tools and a crane truck , in order to avoid the occupation forces raiding the area , destroying the plot and imposing a large fine.
Self-demolition in Beit Ummar
In Beit Ummar town, citizen Mohammed Al-'Alami had to demolish a facility he owns , located nearby Hebron- Bethlehem road , close to Beit Ummar entrance.
'Al-'Alami pointed out that in 2020 , he built a building of bricks and steal sheets with a total area of 60 m2 nearby his house , and used it as a workshop to repair air conditioners , the workshop was a source of income for a family of 4 , among them two children , the occupation authorities in February 7th 2022 issued a demolition order within 96 hours on the pretext of building without a license.
Al-'Alamai asserted:
"After I received the notice , I started the demolition immediately , starting from the ceiling , and thenthe walls , because I was worried that the occupation forces may destroy my properties inside the workshop, so I had to evict It and carry out the demolition my self.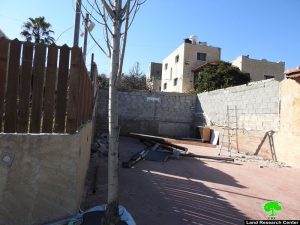 Photo 7: Al-'Alami workshop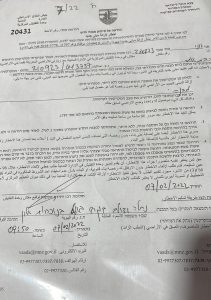 Photo 8: A notice for Al-'Alami facility
Prepared by