Rahalim Settlers Cut down Olive Trees in Yasuf village / Salfit governorate
Violation: cutting down 22 olive trees.
Location: Yasuf village, northeast of Salfit.
Date: 01/02/2022.
Perpetrator: settlers of Rahalim colony
Victims: farmer Omar Rashid Musleh.
Description:
 In the early morning hours of Tuesday, February 1st 2022, an extremist group of colonists raided an olive grove in Bab al-Shi'ib area, to the east of Yasuf village, and completely cut down 22 fruitful olive trees. This attack is considered the second of its kind in less than one month, as  on 21/1/2022  colonists raided the same site and the same plot of land, and cut down 14 olive trees . For more information, read the report issued by the Land Research Center at the time, "click here".
The olive grove belongs to farmer Omar Rashid Musleh, 43 years old, from the village of Yasouf, who supports a family of (6) members, including (4) children, and out of the total number of individuals there are 3 females.
In his interview with LRC's field researcher, the farmer Omar Mosleh stated the following: "I own a plot of land with an area of ​​four dunums, planted with fruitful olives trees aging ten years, and despite all the difficulties in accessing it because of its location nearby to the road linking the settlements of "Rahalim" and "Taffouh" east of the village, and despite the constant threats and harassment colonists against us, we still holding to this land." After the first attack, about nine days ago, I informed the occupation police of the assaults, but apparently they did not open any serious investigation. On Tuesday morning, during my visit to the land, I discovered that the colonists had cut down more trees ".
It is noteworthy that the "Bab al-Shi'ib" area is one of the sites witnessing an increase in colonists assalts, as the area is located nearby colonies of "Taffouh" and "Rahalim". The LRC's field researcher has documented a number of attacks in the same site previously  by the same gang of extremist colonists.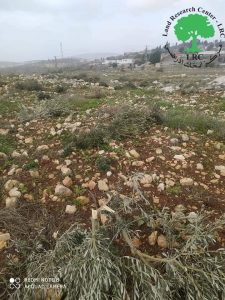 Yasuf:
It is 16km south of Nablus. Yasuf is surrounded by Huwara and Jamma'in (north), Marda (west), Yatma (east), and Iskaka (south).
Yasuf is inhabited by 2093 people (according to 2017 census). It has a total area of 6037 dunums, 330 of which are built-up area of the village. 
The Israeli occupation confiscated 814 dunums for these two colonies: Kfar Tapuah colony which was built on Yasuf lands in 1978. The colony is inhabited by 523 colonists and Rachelim- Shvut that was built in 1991 and devoured 10 dunums.
Besides, the bypass road number 508 confiscated more than 155 dunums of the village lands.
According to Oslo Accords, only 1427 dunums of Yasuf lands are under Area B (PA is in charge of civil matters with Israel responsible for security) while most of Yasuf is under Area C (Israel maintains full security and administrative control). About of 4609 dunums of Yasuf is in area C
Prepared by