Halt of Work for Several Structures in Marda village / Salfit governorate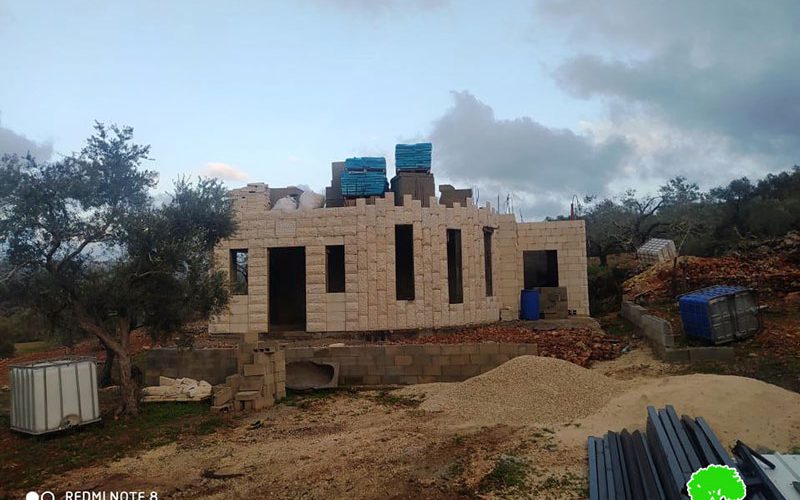 Violation: Halt of work and construction notice.
Location: Marda village / Salfit governorate.
Date: February 2nd 2022.
Perpetrators: The Israeli civil administration.
Victims: A number of people at the village.
Description:
Wednesday, February 2nd 2022, an army force accompanied by the building inspector at the Israeli civil administration, raided the eastern neighborhood at Marda east Salfit  , and arrived to Aj-Jaladat and Maleh Ghoul areas , and served  halt of work notices to several structures including an under construction mosque.
According to the military order , the occupation sat March 14th 2022 , as the date of the building and organization session in Beit El military court to decide the fate of the structure.
Affected citizen

Family members

Area m2

The targeted facility

Military order number

photo

Males

Females

children

Mufeed Hammad

3

3

2

200

 

200

-Closed metal shack.

-Paved area.

Ahmed Mansour

2

3

3

150

 

300

-a Shack.

-a shack built of bricks and zinc.

Mohammed Mansour

1

2

3

300

 

100

-commercial stores (4).

-Zinc Shack – and aluminum workshop.

Sami Mansour

3

2

0

200

-two floors house (inhabited)

-wall

-excavated area

Ahmed Mansour

Repeated

repeated

repeated

200

-4 stores

32538

Zahi Mansour

4

3

0

400

– Residence (two floors) under construction.

Mohammed Ibdah

2

2

2

200

-Under construction house / one floor.

A Mosque

 

 

 

700

Mosque , under construction.

An agricultural road

 

 

 

2500

Agricultural road covered with basecourse.

total

15

15

10

2950

 

 

 
"Recently I started building a house for my family in Maleh Ghoul area east the village , I put all my savings in the construction process , and today I was devastated when I received the notice, we had all our hopes in this house , and It is built in a populated Palestinian area , so we couldn't see that coming at all."
 A glimpse on Marda village:
The village of Marda is located 5 km to the north-east of the city of Salfit, and it is bordered to the north by the village of Jamain, to the west by the village of Kafel Haris, to the east by the village of Yasuf, and to the south by the colony of "Ariel". Its population was 2,375 people in accordance with 2017 Palestinian general census. The total area of ​​the village is 8,816 dunums, of which only 350 dunums are a built-up area.
About 2537 dunums of the village's lands have been captured for  the building and expansion of Ariel colony since 1978 whose total population nowadays mounts to  16053 settlers.
In addition, about 261 dunums of Mardsa village lands were, also, captured for the construction of the settlers' bypass roads No. 505.
According to Oslo agreement, the lands of the village are classified as followed:
Areas classified as B is 17% (about 1458 donums).
Areas classified as C is 83% (about 7358 dunums).
Prepared by