Final demolition order for Two houses belong to 'Awad family in Idhna town / West Hebron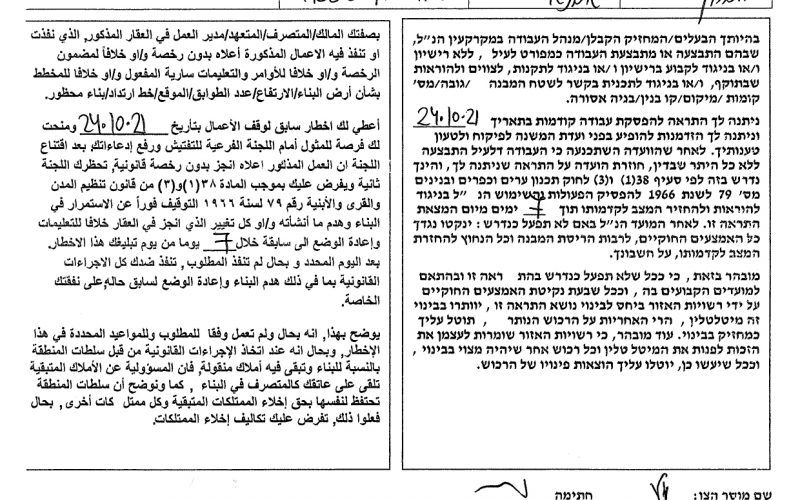 Violation: Notices of demolition for two houses.
Location: Khallet Harb – Idhna / Hebron governorate.
Perpetrators: The Israeli Civil Administration.
Victims: Citizens Sa'adiya and Saddam 'Awad.
Description:
In February 20th 2022 , the occupation authorities served demolition orders for two houses in Idhna town west Hebron , On the pretext of building without a license.
An army force accompanied by the building inspector at the Civil Administration raided Khallet Harb west the town , The building inspector wrote the notices hanged them on the threatened houses and withdrew.
The notices were entitled "Halt of work and demolition notice" That ordered the occupation authorities to demolish what was built in (7 days) , and threatened in case the owner did not carry out the demolition , the forces will demolish the structures and make them pay all the costs.
The occupation authorities targeted the two houses with halt of work notices, issued in October 24th 2021 , ordering halt of work for the houses , and setting November 17th 2021 , as the date of the inspection subcommittee in Beit El military court to decide the fate of the structure.
Before the session, the owners had prepared the legal files, and proved that they built on their own lands. However, no matter what proves were given, the occupation never gives construction licenses to Palestinians , the targeted houses belong to:
Citizen Sa'adiya 'Awad: Received a demolition notice number (62061) which target a house built on cement since 2020 , and has a total area of 60 m2 , where she has been living alone since two years.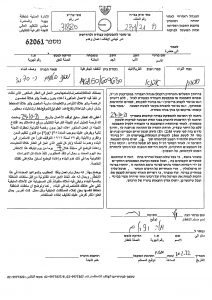 Citizen Sadam 'Awad: Received demolition order number (62062) which targets a house built of cement since 2020 , with a total area of (250 m2) consisting of two floors , and still under construction , and it is supposed to be a home for a family of (6 people) , among them (4 children) , and (2 women).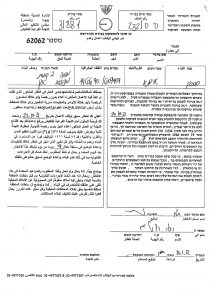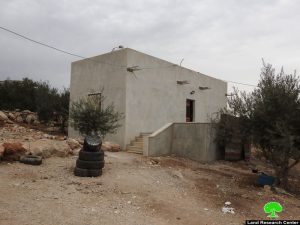 Demolition order number (62062) which targets a house belongs to citizen Sadam 'Awad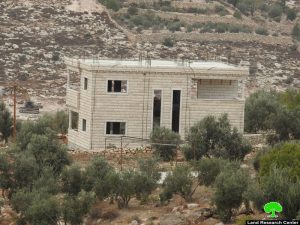 Photo 2: House of citizen Sadam 'Awad
About Idhna:  [1]
It is 18km west of Hebron. According to statistics conducted in 2017, Idhna is inhabited by 26,009 people. It has a total area of 26,447 dunums, 2653 of which are the village's built-up area.
The Israeli occupation confiscated 107 dunums of Idhna for the Apartheid Wall. Not only that, more than 3,511 dunums were isolated behind the wall as a result of its construction.
Besides, the bypass road number 35 -that is 4,674 meters long- confiscated more than 467 dunums from  the village lands.
[1] GIS-LRC
Prepared by
 The Land Research Center
LRC