Demolition and Removal of Retaining Walls within 96 hours in Duma village / East Nablus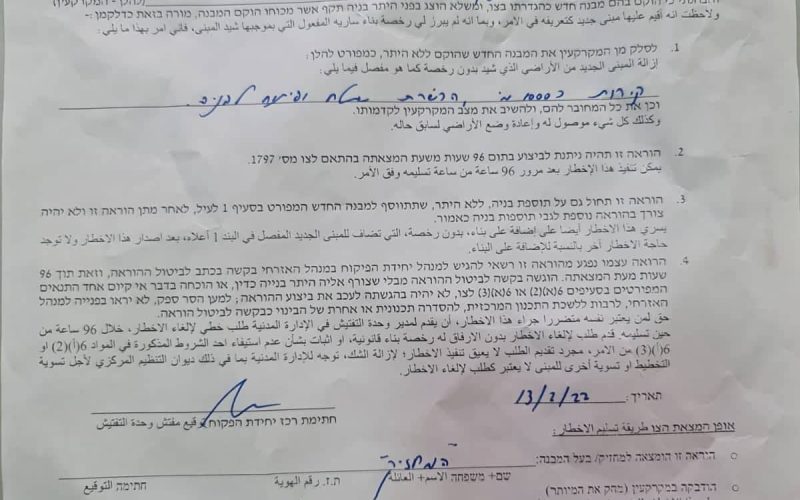 Violation: Notice of demolition and removal of retaining walls.
Location: Duma village/ Nablus governorate.
Date: Feb 13th 2022.
Perpetrators: The building and organization department at the Israeli civil administration.
Victims: Citizen Munawar Dawabsha.
Description:
Sunday morning, Feb 13th 2022 , about 9:00 am a massive army force accompanied by the building inspector at the Israeli Civil Administration , raided Duma village southeast Nablus , and headed to Al-Wastat location on a plot belongs to farmer Munawar Dawabsha (38 years , and 7 family members ) , the building inspector wrote the notices hanged them on the structures and withdrew. The notice was issued on the pretext of building without a license.
Dawabsha said that he went to the plot , found a notice hanged on the wall numbered (21455) , where the occupation authorities order to demolish and remove the structures within 96 hours following the issue date and time. Dawabsha took the notice to the Duma village council in order to file an objection, and contacted The Jerusalem Legal Aid and Human Rights Center and the Colonization and Wall Resistance Commission.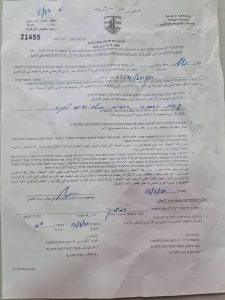 Notice 21455 which targets walls on Ad-Dwabsha plot
Photos 1-4: The targeted land and retaining walls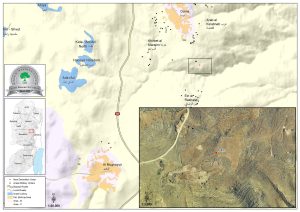 The affected farmer said " we are worried that the occupation authorities will demolish the wall after the 96 hours period completes, and consequently destroys the plot immediately."
And pointed out that he had spent (150 thousand shekels) to rehabilitate his plot (6 dunums) , and planted 66 olive trees, built retaining walls , about 1000 m * 1 m , and surrounded it with a siege to protect it from wild animals.
The Occupation authorities issued a notice in reference to military order (1797) issued in 2018, which targets new building, the occupation authorities refuses objections
About Duma village:[1]
Duma is a Palestinian village in Nablus Governorate, located southeast of Nablus City. It is bordered by Al Jiftlik and Fasayil (in Jericho Governorate) to the east, Majdal Bani Fadil to the north, Qusra and Jalud to the west, and Al Mughayyir (in Ramallah Governorate) to the south.
[1] GIS-LRC