Writing Hatred inciting slogans and Slashing car tires in Qira village / Salfit Governorate
Violation: Colonists assaults target Palestinian properties.
Location: Qira village / North Salfit governorate.
Date: January 23rd 2022.
Perpetrators: price tag terrorist gang.
Victims: five families from the village.
Description:
In the early morning hours of Sunday January 23rd 2021 , a group of extremist colonists sneaked to the southern neighborhood of Qira village north Salfit city. The attackers took advantage of the night silence around the village to slash the tires of seven cars and draw David sign on them , and writing slogans like : "Death for Arabs" .
Qira Village Council head, Ashraf Ziadeh told LRC: "This is not the first attack of this type, in 2019 another attack was carried out on the hands of the price tag gang, we already submitted many complaints to the occupation police , which never actually opens an investigation on colonists vicious assaults on the west Bank , and provides protection and support for the perpetrators under the table."
 According to the village council , the attack affected the following:
Fahed 'Awwad: colonists slashed the tires of his Mercedes car and wrote hatred inciting slogans on it, in addition to slashing the tires of another Opel car parked in front of his house.
Waheeb 'Arbassi : colonists slashed the tires of a Seat car.
Najeh 'Erbassi : colonists slashed the tires of a Hyundai Accent car.
Nafez 'Erbasi : colonists slashed the tires of a Kia car.
'Ayed 'Erbasi : colonists slashed the tires of a Hyundai car.
Hanan 'Arbasi: colonists slashed the tires of a Seat Car.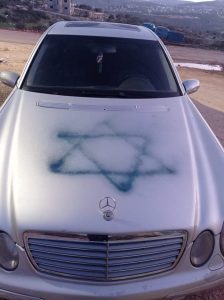 Scenes of colonists' assaults on Palestinian properties in Qira village
The price tag movement still takes a leading role in terrorist attacks in the West Bank, during the past few years, a large part of their assaults took place in the southern suburbs of the Nablus governorate, the attacks targeted places of worship , houses, and other private properties that belong to Palestinians.
About Qira:[1]
7 km north Salfit, Qira is surrounded by Zita and Jama'en (north) , Kafl Haris (west) , Jama'en and Marda (east), also Kafil Haris (south), and "Ariel " settlement on confiscated lands south.
Qira has a population of (1278) people according to 2017 census , and a total area of 2,450 dunums of which 205 dunums are a built up area.
Oslo accords divided the town's land as the following:
B area : 2,435 dunums.
C area : 15 dunums.
[1] GIS-LRC