The Occupation Demolished an Agricultural room and a Fence in Wad Fatas / North Ar-Ramadeen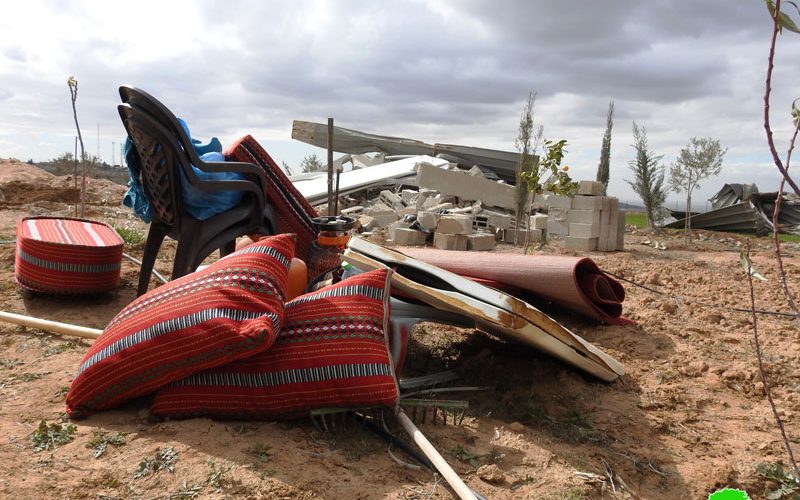 Violation: Demolition of an agricultural room and a fence.
Date: January 26th 2022.
Location: Wad Fatas – Ar-Ramadeen / Hebron governorate.
Perpetrators: The Israeli Civil Administration.
Victims: Citizen Othman Qasasi.
Description:
Wednesday, January 26th 2022, The Israeli Occupation Authorities demolished an agricultural room and ravaged a metal fence at a plot belongs to citizen Othman Al-Qassasi , in Wad Fattas area west Ar-Ramadeen south Hebron governorate.
Al-Qassassi said that he received a call from neighbors of the land saying that the occupation authorities demolished a fence that surrounds his plot and demolished the room, he reached the location and found out that the occupation machineries ravaged everything at the plot.
Photos 1-6: The remains of demolishing a facility belongs to Al-Qassasi
Eyewitnesses said that an army force, and officers from an Israeli civil company, accompanied by a civil bulldozer raided the plot and ravaged the fence and everything inside.
According Al-Qassassi , the occupation authorities demolished a siege around 400 m long that surrounds a plot  with a total area of 7 dunums , and ravaged a large part of its lands.
The Occupation machineries demolished the room that Qassassi had built in his land since 2020 of bricks and steal sheets , with a total area of 30 m2, that he used to stay at while working at his plot.
The affected citizen found a notice issued by the occupation authorities hanged on the metal gate , and issued in July 11th 2021 , entitled halt of work and demolition notice on the pretext of building without a license , but the citizen pointed out that he did not have enough information to file an objection.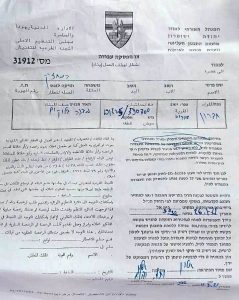 Notice number 31912 which targets Al-Qassasi facility
Prepared by
 The Land Research Center
LRC