Removal Notice for a Water Reservoir in Furush Beit Dajan /northeast Nablus
Violation: Notice of removal for a water reservoir.
Location: Furush Beit Dajan / Nablus governorate.
Date: January 6th 2022.
Perpetrators: The building and organization department at the Israeli civil administration.
Victims: Citizen Thabit Abu Thabit.
Description:
Thursday, January 6th 2022, about 10:00 am, a massive army force accompanied by the Israeli Occupation building and organization department officer raided Beit Dajan village northeast Nablus city at the Jordan Valley 
Affected citizen Thabit Abu Thabit (67) told LRC the following:
"Thursday, about 12:00 pm, I found a notice hanged on the water reservoir at the plot, and my neighbors told me that army forces and two military cars stormed the plot , and an Israeli officer got out of one of the cars, hanged the notices on the reservoir (a removal notice within 96 hours) , and took pictures then withdrew.
The reservoir is installed southeast the village on area classified "C" according to Oslo accords, and located on a plot with a total area of 5 dunums planted with citrus, the main objective for the reservoir installed by agricultural directorate in Nablus, was to provide water for citrus trees at the area, and for other plants.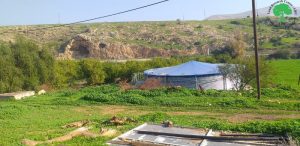 The affected informed the Furush Beit Dajan village council , which gave him directions on how to object on the military order through preparing a legal file , and contacting the Jerusalem Legal aid center to submit an objection. Noteworthy, Furush Beit Dajan village council attended trainings conducted by LRC team under Securing Palestinian Land and Housing Rights project on "Military Orders and Legal Defense Techniques" .
 About Furush Beit Dajan: [1]
25 km to the East of Nablus, Furush Beit Dajan is bordered by Ein Shably and Tammoun (north) , Beit Dajan and Al-'Aqrabaniya (west), Tammoun (east)and Aj-Jiftlik (south).
Furush Beit Dajan has a total population of (723) people according to 2017 census, The village has a total area of 20,082 dunums , of which 225 dunums are a built up area. The Occupation confiscated (2494) dunums for the following:
Established in 1971, Humra settlement devoured 1320 dunums and inhabited by 188 settlers.
Bypass road 57,508,578 devoured 703 dunums.
Military camps devoured 471 dunums.
The village was classified C area in Oslo accords.
[1] GIS-LRC
Prepared by
 The Land Research Center
LRC