Illegal Israeli Colonists Kill two heads of Sheep in Jib'it / Ramallah governorate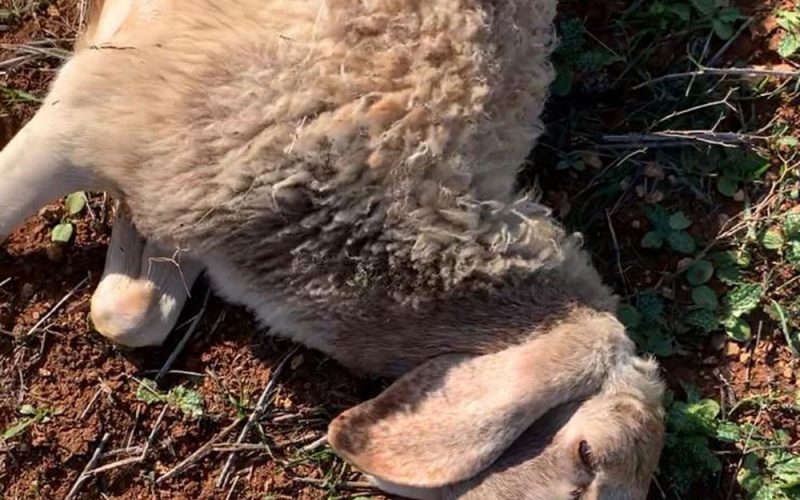 Violation: killing two heads of sheep and poisoning others.
Location: Khirbet Jib'it – Al-Mughayyir village / Ramallah and Al-Bireh governorate.
Date: January 9th 2022.
Perpetrators: An outpost in Jib'it lands.
Victims: Farmer Fadel Abu Alia.
Description:
Sunday , January 9th 2022 , a group of fanatic colonists raided Jib'it area east Al-Mughayyir northeast Ramallah , and deliberately ran over a herd , which caused the death of two heads of sheep , and the injury of three others.
Farmer Fadel Abu 'Alia told LRC:
"About 11:00 am , while I was herding in Jib'It posture , I saw three colonists onf a tractor driving fast towards my herd of sheep, and deliberately ran over three of them , we tried to stop them but they were armed."
The herd belongs to farmer Fadel Abu 'Alia , who supports a family of 9 , among them 4 females and 2 children.
Noteworthy, Fadel was a victim of a similar assault in February 4th 2021 , and filed a complaint to the Israeli Police, but the occupation authorities and police never carry out serious investigation on such violations.
Farmer Fadel Abu 'Alya said:
"My loss amounted to seven thousand shekels , I informed the civil administration and the Israeli police, they showed up at the location to record that attack , but didn't take any serious measures  against the perpetrators."
Jib'it area is a part of Al-Mughayyir eastern lands , it is inhabited by seven Palestinian families that composes of 47 people from Al-Mughayyir village.
Not very far from the hamlet, the occupation authorities established a military camp in 1982 , that was evacuated in 2018, and an illegal outpost was sat up on its place, since then colonists carry out daily assaults against people of the village.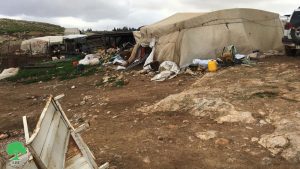 Al-Mughayyir: [1]
Al Mughayyir is located 30 km to the north east of Ramallah; it is inhabited by around 3,249 people according to the PCBS statistics conducted in 2017.
Most of the village agricultural fields are located in its eastern parts; its total area is 33055 dunums, 501 of which are built-up area.
The Israeli occupation confiscated 37 dunums of Al Mughayyir lands for bypass #458.
According to Oslo Accords, about 95% of the village is under Area C while only 5% is under Area B.
Area B: 1,695 dunums
Area C: 31,360 dunums
[1] GIS-LRC
Prepared by