Halt of Work Order Target a Store in Huwwara town / Nablus governorate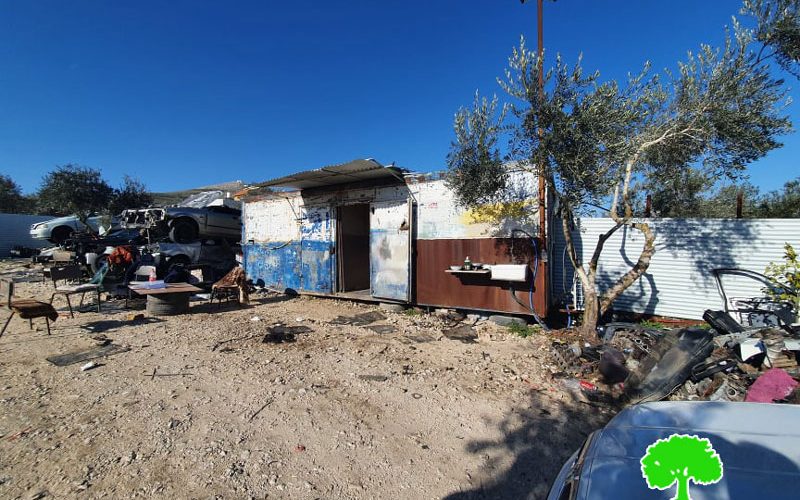 Violation: Halt of Work Notice for a Store for selling vehicles parts.
Location: Huwwara town /Nablus governorate.
Date: January 18th 2022.
Perpetrators: The Israeli Civil Administration.
Victims: Citizen Salama Saleem.
Description:
Tuesday morning, January 18th 2022 about 10:00 am , and army force accompanied by Colonization and Wall Resistance Officer raided Huwwara town south Nablus , and gave a halt of work notice for a store that belong to citizen Salama Saleem , on then pretext of building without a license.
Affected Citizen Salama Saleem (51) told LRC:
"I found a notice hanged on the door of the facility , for a plot that contains a building with a total area of 2 dunums , and a metal container with a total area of 15 m2 , that he owner had made to sell vehicles parts."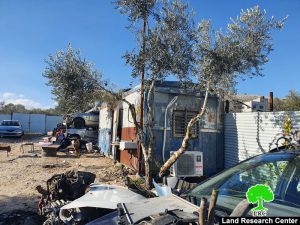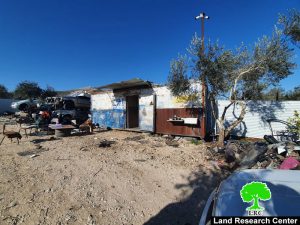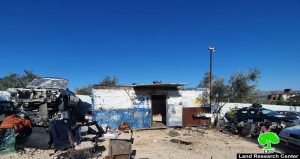 Photos 1-3: A facility targeted with a halt of wok notice
 In notice number (32533) the occupation authorities ordered the immediate stoppage of construction works , and setting February 16th 2022 , as the date of the inspection subcommittee which will be conducted in Beit El to decide the fate of the structure.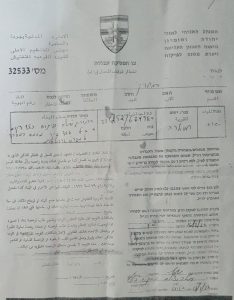 Halt of work notice no.32533 which targets Salama Saleem facility
Salim built the facility two years ago , to be a source of income for his family of 8, once he received the notice he went to Legal aid offices in Huwwara , to freeze the military order and prepare a legal file to object
About Huwwara:
8km to south of Nablus city, Huwwara is located on the Israeli bypass road no. 60 that links the northern parts of the West Bank to its south and known as " death street " in reference to the numerous car accidents that take place there. The municipality of Huwwara rehabilitated the road and installed warnings but the Israeli occupation still hinders any attempt at restoring the road and does not approve any signs or warnings.
Huwwara is inhabited by 5,570 people (2014 projections). It has a total area of 8,520 dunums, 1116 of which are the village's built-up area.
The Israeli occupation confiscated 331 dunums in favor of the establishment of Yitzhar colony. Besides, the bypass road number 60 confiscated more than 430 dunums from the village lands under its route.
Prepared by
 The Land Research Center
LRC