The Occupation Demolished a house and a Cistern in Qilqis village / south Hebron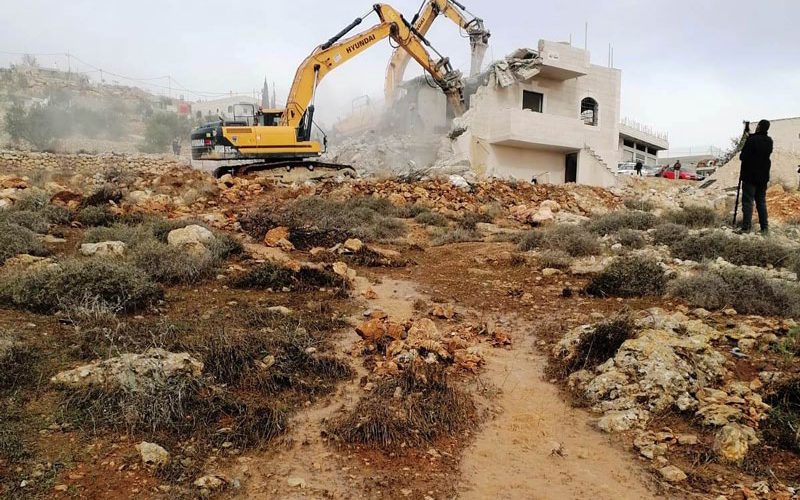 Violation: Demolition of a house and a cistern
Date: December 28th 2021.
Location: Qilqis village / south Hebron city.
Perpetrator: The Israeli Civil Administration.
Victims: Citizen Maher Al-Atrash.
Description:
Tuesday, December 28th 2021 , the Israeli occupation authorities demolished a house and a cistern belong to citizen Maher Al-Atrash , on the pretext of building without a license in Qilqis village south Hebron.
About 9:00 am, a massive army force, border guards, and officers from "The Israeli civil administration – the building and organization department" accompanying two excavators produced by Hyundai company raided  Sundas mountain north the village , heading to Al-Atrash house.
The Occupation forces encircled the location then leveled the house to the ground.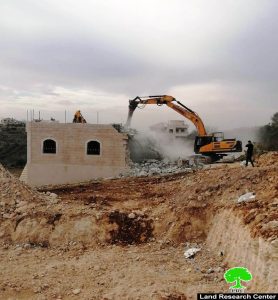 Photos 1-3 : Demolition of a house that belong to citizen Maher Al-Atrash
The targeted house was built since 2019 , and was at the final phases of preparation to be moved to , the house was consisting of two floors , with a total area of 170 m2 built of stones and concrete.
The Occupation forces demolished a cistern under the house , with a storage capacity of 140 m3 , that the citizen had made to use its water to fulfil the family's needs.
In April 2021 , the Occupation authorities issued a halt of work notice for  the house , that was followed by a final demolition order in October 28th 2021, under which the owner was ordered to demolish the house within 7 days.
The house was supposed to be a home for a family of 7 , 5 of them are children.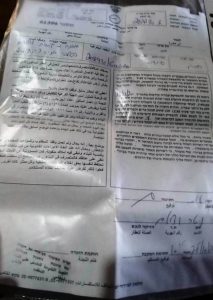 Demolition order (61394) which targets Al-Atrash house
Marwa Al-Atrash , wife of the house owner was getting ready to move to her new home , and she was devastated when she learnt about the demolition of the house that they dreamed to move to it together with her family, she also said: "building the house took two years , and we saved every penny we earned for the new house, dreaming to move from the small rented apartment , once we finished the construction of the house , the occupation forces destroyed  it."
Noteworthy, Qilqis village has a population of 2000 people , and located to the south of Hebron city. Bypass 60 passes through the northern side of Qilqis , which the occupation authorities had isolated from Hebron city (20 years ago) , through imposing closures and prohibiting farmers from taking the bypass road (60).