The Israeli Occupation Stops work on a plot in 'Azzun town / Qalqilya governorate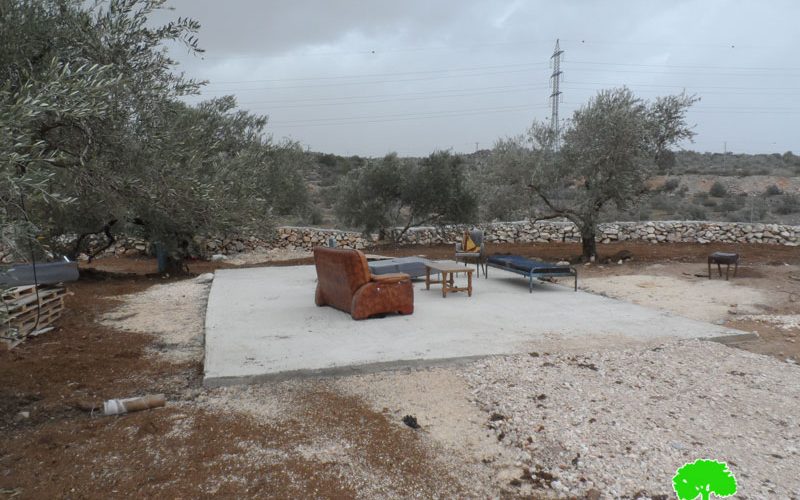 Violation: Halt of Work Order on a plot.
Location: 'Azzun town north / Qaqlilya governorate.
Date: Dec 6th 2021.
Perpetrators: Israeli Civil Administration.
Victims: Farmer Radi Radwan.
Description:
Monday morning, December 6th 2021 , the Israeli Occupation targeted a plot recently rehabilitated In Kafayef Njas area in natural block 10 of 'Azzun town.
The building inspector at the Israeli civil administration raided the location east the town, and served halt of work notice numbered (32637) targeting rehabilitation works carried out at a plot, on the pretext of initiating work without a license from the occupation.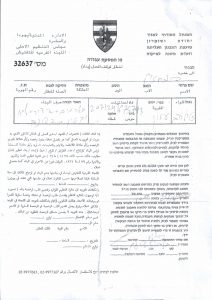 Notice number 32637 which targets land of citizen Radi Radwan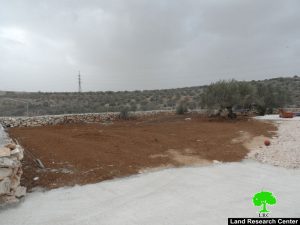 Photos 1-5: the plot and the surrounding retaining wall
According to the military order , the occupation  sat Dec 22nd 2021 , as the date pf the inspection subcommittee session in Beit El military court to decide the fate of the structure.
Reportedly, the targeted plot has a total area of 2 dunums planted with olive trees (13 trees) aging 12 years old. The plot is surrounded by a retaining wall and a metal siege, and contains a water harvesting cistern with a storage capacity of 24 m3 , all  belong to citizen Radi Radwan from 'Azzun town , who supports a family of 7, 3 females , and 3 children.
Affected Citizen pointed out: "During summer of 2021 I've got a rehabilitation work project for a plot that I own in  Ma'an Development Center with the supervision of the Palestinian Ministry of Agriculture. I started rehabilitating a plot (2 dunums) and establishing a water harvesting cistern , after finishing the project I was shocked  of receiving a halt of work military order.
 About Azzun:[1]
Location: 'Azzun town is located on the road between Nablus and Qalqilya known as bypass 55 , 23 km west Nablus , 9 km east Qalqilya , 22 Km south Tulkarm city , connected to Ramallah with a paved road that reaches to villages of Kufur Thulth , Masha , Deir Ballut , Birzeit , during the Jordanian Rule to Palestine a military road , consequently 'Azzun is surrounded by many villages:
North: Sear , Jayous , Kufur Jamal , Kufur 'Aboush , Kufur Zibad, Kufur Sour.
South: Kufur Thulth , Senirya, Masha, Bidya , Az-Zawiya.
West: An-Nabi Elyas , 'Asla.
East: Kufur Laqif, Jinsafut , Hajja , Baqat Al-Hatab, Amatin , Fara'ata , Jit , Kufur Qadum , Sarra.
Area and People:
'Azzun has  a total area of 24 thousand dunums, it reaches to the west to Habla and Qalqilya lands , and to the east to Kufur Laqif and Deir Istiya , and to the west , towards the green line to 'Azzun forest known locally as (Tabsur),  but illegal Israeli Colonists however  call it Re'anana , only 9139 dunums remained out of 24 000 dunums , of which only 1209 are a built up area for the town.
According to 2017 census, 'Azzun has a population of 11256 people , and it includes many hamlets and/or small villages like Asla , An-Nabi Elyas , 'Azbet At-Tabeeb.
Colonization in 'Azzun:
The occupation confiscated 903 dunums for the construction of settlements:
"Ma'ale Shemron" , established in 1980 , ate up 1903 dunums, with a built up area of 216 dunums , and populates 549 illegal settlers.
Ghanat Shamron establishe din 1985 , with a built up area 484 dunums.
Karnei Shamron , established in 1978 , with a total area of 7339 dunums , built up area 1351 dunums , and a population of 6270.
[1] GIS-LRC
Prepared by
 The Land Research Center
LRC