Eviction Notice for a plot in "Khallet Hassan" area / Salfit Governorate
Violation: Eviction Notice for 5 agricultural dunums.
Location: Khallet Hassan – Bidya town / Salfit governorate.
Date: December 15th 2021.
Perpetrators: Governmental Properties Inspector / The Israeli Civil Administration.
Victims: Family of Farmer Kamil Salama.
Description:
As part of the occupation's plan to empty "Khallet Hassan" area to take over it for future colonial expansion, The Israeli Civil Administration served an eviction notice to a plot in Bidya.
Wednesday morning, December 15th 2021, The building inspector at  the Israeli Civil Administration raided Khallet Hassan area , and hanged a military notice on a siege that surrounds a plot with a total area of 5.5 dunums , recently planted with olive trees since march.
Military notice number (1021), orders the owner to evict the plot within 45 days.
The targeted plot belongs to farmer Kamel Yousef Salama from Bidya town north Salfit , and located in natural block 9 of Khallet Hassan.
Khallet Hassan area north Bidya is heavily targeted by Israeli land grabs , an Israeli company took over 1200 dunums , 900 dunums of which were returned to the owners recently following pressures and demonstrations by Human Right organizations on the Israeli government  .
The area is surrounded by many colonies including: Karnei Shamron, Ma'ale Shamron, Novim ,  and Giva'at Yaer , which makes it a hot spot for confiscations.
In addition, The Israeli occupation forces prohibit farmers from planting their own lands, and destroy agricultural projects.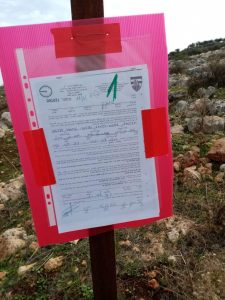 Bidya town:[1]
Bidya is located 25 km south east of Nablus city and surrounded by Deir Istiya and
Kafr Thulth (north), Seneria , Masha, and Az-Zawiya (west) , Qarawat Bani
Hussan and Sarta (east), and Kafr Ad-Deek (south).
Bidya has a population of (10,451) people according to  2017 census.
Bidya has a total area of 13,827 dunums , of which 1,367 dunums are a built
up area.
The occupation confiscated 637 dunums of its land for the following purpose:
 17 donoms were confiscated for the expansion of Ariel" colony from 1999;
 620 dunum were seized for the building of   Bypass roads 505 and  5;
 The Israeli Occupation is planning to construct a segment of the
Annexation and Expansion wall on the town's lands. (the plan is to construct
a 4118 m segment, which will eat up 411 dunums and isolate 3,690 dunums behind it.
Oslo accords classified the town's lands as the following:
–    (B) area : 2,045 dunums.
–    (C ) area: 11,782 dunums.
[1] GIS-LRC
Prepared by
 The Land Research Center
LRC