Israeli Occupation Forces close water spring and assault farmers south Hebron governorate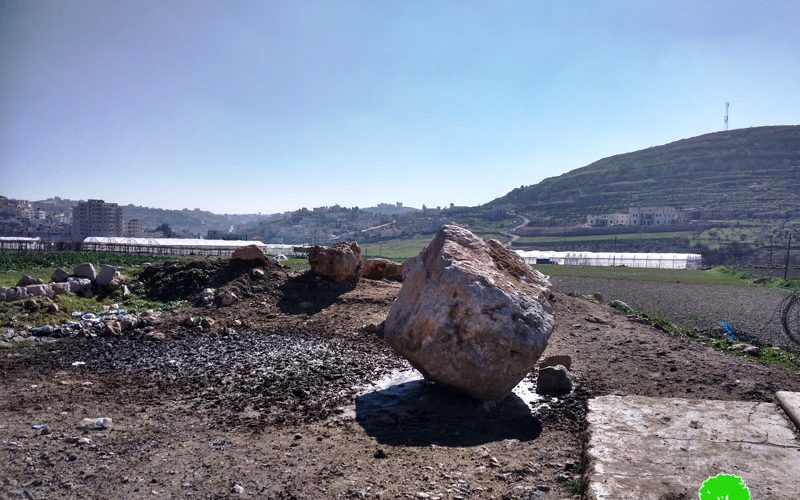 Violation: closing water spring
Location: Dura village
Date: January 13, 2018
Perpetrators: Israeli Occupation Forces
Victims: farmers from the area
Details:
Israeli Occupation Forces closed sealed off on January 13, 2018 "Ein Al-Dilbih" water spring, southeast Dura village in Hebron governorate. Reportedly, the force fenced the water spring and assaulted farmers who we were present in the area.
Framers cut the fence and managed to get water for drinking and for their sheep, taking into account that the water spring is the area's main source of water.
Harassments and attacks of the occupation forces date back to long ago. First, farmers were banned to access the spring and collect water; especially during each month of Ramadan.
Soldiers of the Israeli forces set up a tent near the water spring and blocked the way in face of Palestinian farmers through rocks and stones.
Ein AL-Dilbih water spring with a view of the forces violations
Ein Al-Dilbih is permanent spring that stems from nearby mountains and streams into a pool nearby the bypass road number 60. Tens of farmers rely on the spring in irrigating their crops in an area of around 200 dunums.
Farmers of the area said that this step comes in the framework of an Israeli plan to control water resources of the West Bank. Also, there is a believed hidden aim , which is to link the water spring to colonial outposts and military camp founded in the area.
Farmers also expressed concerns that their plantations and crops will be badly affected in case Israel keeps on closing the spring and banning them from using water.
It should be noted that Israeli Occupation Forces demolished a number of water collecting pools in "Al-Majnuna" area that is adjacent to Ein Al-Dilbih.
In the same context, Israeli Occupation Forces assaulted farmers in Al-Hijrih village and confiscated their vegetable kiosks.
Prepared by
The Land Research Center
LRC