The Occupation Demolished Residential and Agricultural structures East Idhna / West Hebron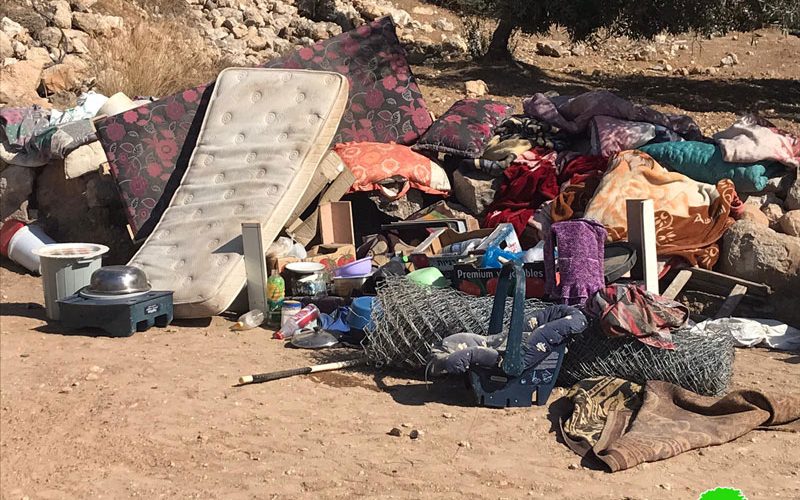 Violation: Demolition of residential and agricultural structures.
Date: November 8th 2021.
Location: Fara'a – Idhna town / Hebron governorate.
Perpetrators: The so-called Israeli Civil Administration.
Victims: Citizen Khaleel Tnaina.
Description:
The Israeli Occupation Authorities demolished residential and agricultural structures belong to citizen Khaleel Tnaineh , on the pretext of building without a license in Fara'a east Idhna / Hebron Governorate.
Affected citizen told LRC:
"About 9:00 am , a massive army force, border guards, and officers from the building and organization department raided the area with a bulldozer, emptied the structures from sheep , and carried out the demolition."
Tnainah pointed out that the occupation forces demolished many structures including:
a barn, with a total area of 130 m2, that used to contain 70 heads of sheep.
a container used as a temporal residence, inhabited by Khaleel Tnaineh and his four family members, and has a total area of (20 m2).
An outdoor bathroom built of bricks (2 m2).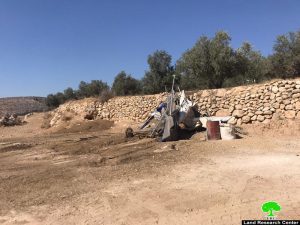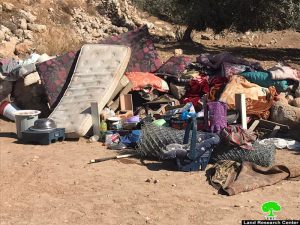 Photos 1-3 Demolition of Tnaina houses and facilities
The Occupation authorities demolished the facilities without any preceding notices. Noteworthy, Tnaina moves to Fara'a in Spring to posture his sheep, and when the season is over, he goes back to his town in Tarqumiya.
Fara'a area:
 Fara'a is located to the east of Idhna town and west Taffouh , and inhabited by number of Bedouin families from Tarqumiya , Idhna, and Dura who work in agriculture and cattle breeding.
Fara'a is known for its water spring ('Ein Fara'a Spring) , but the occupation forces and settlers impose their control on the spring water every once in a while especially in Jewish religious occasions. Noteworthy, Adora colony overviews Fara'a area from its eastern borders.
Legal Commentary:
Demolition of Palestinian structures by the occupation authorities is a  violation of international and humanitarian law presented by the following articles:
Article 17 of the Universal Declaration of Human Rights, dated December 10, 1948 states that "No one shall be arbitrarily deprived of his property".
Article 53 of the Fourth Geneva Convention of 1948 prohibits the destruction of property, as this article states the following: "The occupying power is prohibited from destroying any private, fixed or movable property related to individuals or groups, the state or public authorities, or social or cooperative organizations, unless the war operations inevitably require this destruction.
Article 33 of the Fourth Geneva Convention states: "No protected person may be punished for an offense he or she has not personally committed.
Paragraph 'g' of Article 23 of the Hague Convention of 1907 AD also warned against destroying or seizing the enemy's property, unless the necessities of war necessarily require such destruction or seizure.
Prepared by