The Occupation Demolished Ad-Deirat Graveyard – East Yatta / Hebron Governorate
Violation: Demolishing a graveyard.
Date: November 23rd 2021.
Location: Ad-Dirat – Yatta town / Hebron governorate.
Perpetrators: The Israeli Civil Administration.
Victims: Citizens from Ad-Deirat.
Description:
Tuesday , November 23rd 2021 , the Israeli Occupation authorities demolished a graveyard in Ad-Dirat east Yatta, on the pretext of building without a license.
Eyewitnesses said that an army force, with a truck carrying an excavator raided the village, and demolished the graves.
The machinery demolished eight graves built of cement, on a 1 dunum plot donated by one of the town's citizens to make a graveyard for the village.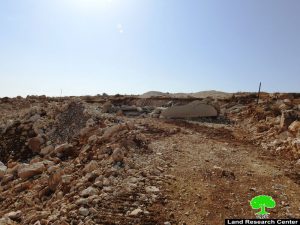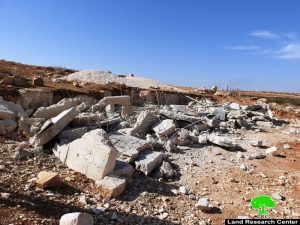 Photos 1+2: the location of the demolition
Th occupation authorities served a notice in April 18th 2021, then came back in July 8th 2021 , and issued a final demolition order.
For more information on Israeli Violations in Ad-Deirat read LRC reports:
About Ad-Deirat: [1]
Al-Deirat village is located to the east of Yatta town and is about 6km away from it. The village is considered agricultural and is inhabited by 1312 people in 2017;  a village council runs the affairs of al-Deirat despite there is no headquarter for the council itself.
A number of families reside in the village namely : (al-Hamamdah, Musa'fieh , al-Adra); al-Deirat is split by the bypass road no. 60, which links all Israeli colonies in the north with those in the south.
The village is edged by Arab al-Ka'abna and al-Karmel colony from the east, Yatta town from the west, Khirbet al-Bwaib from the north and Ma'on colony and Um Lisfa village from the south. Residents of the area aspire to obtain a master-plan for the village that includes their houses in order to protect them from Israeli orders of stop-work and demolition
Legal Commentary:
The demolition of Palestinian homes and structures by the occupation authorities is part of their violations of international and humanitarian law, and the violation of the right to adequate housing for Palestinian citizens guaranteed by international law and international treaties presented by the following articles:
The Fourth Geneva Convention, Article 147, stipulates that "extensive destruction and appropriation of property, not justified by military necessity and carried out unlawfully and wantonly" is a "grave breach" of the Convention.
Article 53 of the Fourth Geneva Convention of 1948 prohibits the destruction of property, as this article states the following: "The occupying power is prohibited from destroying any private, fixed or movable property related to individuals or groups, the state or public authorities, or social or cooperative organizations, unless the war operations inevitably require this destruction.
Article 33 of the Fourth Geneva Convention states: "No protected person may be punished for an offense he or she has not personally committed.
Paragraph 'g' of Article 23 of the Hague Convention of 1907 AD also warned against destroying or seizing the enemy's property, unless the necessities of war necessarily require such destruction or seizure.
[1] GIS-LRC
Prepared by
 The Land Research Center
LRC