Israeli Illegal Colonist Runs Tractor over Three Calves in Umm Al-'Abour area /Tubas Governorate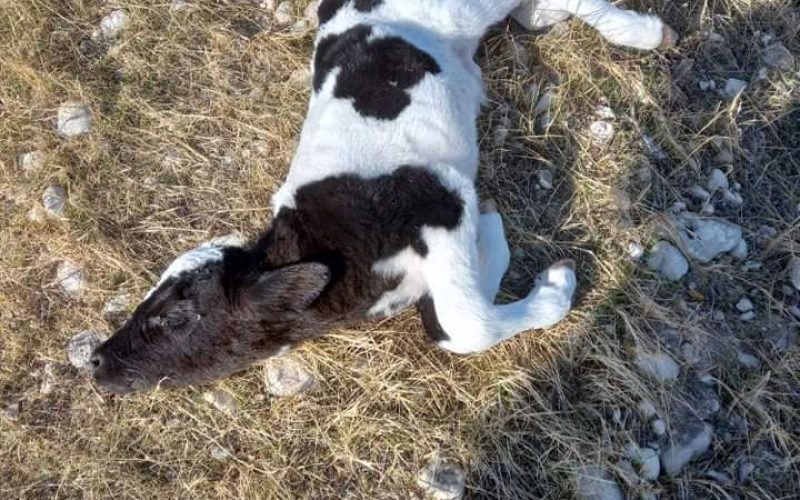 Violation: Illegal Israeli Colonist intentionally runs over three calves.
Location: Umm Al-'Abour / The northern Jordan Valley.
Date: November 28th 2021.
Perpetrators: Colonists.
Victims: Farmer Kamal Daraghma.
Description:
Sunday, November 28th 2021, as few Palestinian herders were herding in Umm Al-'Abour area at the Northern Jordan Valley, they saw a large number of colonists driving tractors around the hills.
One of the colonists intentionally ran his tractor over three calves , which resulted in killing them, the dead calves belong to farmer Kamal Daraghma from Khirbet Umm Aj-Jamal . Other Palestinian herders tried to stop them in order to protect their animals, but colonists called an army force , that quickly showed up and arrested five herders , and they are: Kamal Daraghma, Mohammed Daraghma, Hilal Daraghma , Loay Daraghma , Mohammed Daraghma.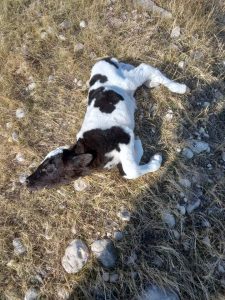 Photos 1-3 : the dead calves – source: Tubas Governorate website
This type of assaults repeatedly occurs in The northern Jordan valley area; However, the affected Palestinian herders usually file complaints to the Israeli police, but the police never opened serious investigation on this type of assaults.
Umm Al-'Abour area is located 23 km to the south of 'Ein Al-Bayda village , it is very close to the Palestinian-Jordanian borders . The area however before 1967 war, was home for tens of Palestinian families,  but that has changed after the war , during which they were forcedly displaced and practicing agriculture was banned. Anyway, from time to time Palestinian herders refuge to Umm Al-'Abour searching for postures. Despite that there are many Israeli illegal outposts at the area including: As-Suweida , Al-Mezokah , Norouch Habaka'a and others , which made it a dangerous place for Palestinians being occupied by armed extremist colonists.
Prepared by
 The Land Research Center
LRC