Halt of Work Order for Residential and Agricultural Structures in 'Azzun 'Atma / East Qalqilya
Violation: Halt of Work order for Residential and Agricultural structures.
Location: 'Azzun 'Atma village / Qalqilya Governorate.
Date: November 28th 2021.
Perpetrators: The Israeli Civil Administration.
Victims: 11 families from the village.
Description:
The Israeli Occupation heavily targets 'Azzun 'Atma village southeast Qalqilya city , where the occupation is imposing restrictions on construction and movement at the village.
Noteworthy, Sunday November 28th 2021, the building inspector at the Israeli Civil Administration raided 'Azzun 'Atma village and targeted 11 houses and facilities with halt of work notices for residential and agricultural facilities , on the pretext of building without a license.
According to the military notice , the occupation sat December 22nd  2021 , as the date of the building and organization session in Beit El military court , to decide demolishing the structure or returning it to its previous status.
The following table shows more information about the targeted structures:
Owner

Family members

children

Military order number

The targeted facility

Area m2

Photo

males

females

Muntasir Ahmed

3

1

2

Two- floors house/ inhabited

170

Shahir Mohammed

1

1

0

Under Construction / one floor house

180

Metleq Mahmoud

5

2

5

Solar cells (28)

 

Bassam Mohammed

1

2

1

Under construction house foundations

120

Abdulhamid Salama

3

2

3

Under Construction house without a ceiling / one floor

120

Mohammed Hanoun

3

2

0

Agricultural structure built of bricks and baton + a wall that surrounds a 1 dunum plot

24

N/A

'Imad Ahmed

3

3

4

Under construction agricultural room without a ceiling

60

Haitham Mohammed

4

5

2

1 dunums plot surrounded with a wall + an under-construction house

150

'Odeh Younis

2

3

3

One floor house / inhabited

200

Wijhat Mohammed

1

5

4

31422

two floors house / under construction

200

Sadeq 'Omar

1

1

0

31423

One floor house / under construction

145

total

27

27

24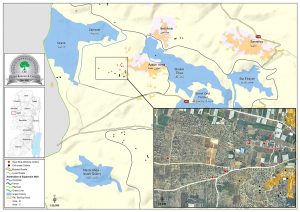 Apparently 'Azzun 'Atma is targeted by a vicious colonial plan, according to the village council, the occupation served 55 (halt of work) or demolition notices , and demolished about 14 structure.
The village is bordered by Sha'ari Tikva in both the eastern and northern areas , the illegal colony is surrounded by a siege that separates it from 'Azzun 'Atma . Noteworthy, Sha'arie Tikva devoured 1500 dunums of the village lands and the surrounding villages like (Sineria , Masha, Beit Amin , Az-Zawiya) most of the confiscated lands are planted with olives, almonds and beans.
And at the western side, the village is bordered by Oranit colony which was established in 1983 , on an area that exceeds 2000 dunums , the illegal colony is surrounded with a siege since 1981 and , and can only be accessed from the northern entrance.
About Azzun Atma:[1]
Located 8km to Qalqiliya city with a total area of 9,472 dunums, of which 1,054 dunums are the village's built-up area, Azzun is inhabited by 7,821 people (2007).
The occupation confiscated vast area from the village for the favor of colonization and the apartheid wall; the areas are detailed as follows:
276 dunums were confiscated for Maale Shamron colony that was established in 1980.
417 dunums were confiscated for the bypass road number 55
It should be marked that the vast majority of Azzun lands (6,927 dunums) is classified as area "C" according to Oslo accords; areas that are controlled by the Israeli occupation. The village has zero percentage of area "A" that is under the control of Palestinian Authority. As for other classifications, the village has 2,546 dunums classified as area "B". (Geographical Information System- Land Research Center)
3 colonies are built on 'Azzun lands and they are:
Maale Shomron: Built in 1980, the colony has a total area of 1903 and a built-up area of 216 dunums. 549 colonists live in it (according to a 2004 census). 
Genot Shomron: Built in 1985, the colony's built-up area is 484 dunums.
Karni Shomron: Built in 1978, the colony's built-up area is 1351 dunums. 6270 colonists live in it (according to a 2005 census).
[1] GIS-LRC
Prepared by
 The Land Research Center
LRC