The Israeli Occupation demolishes 4 cisterns in a Pastoral Reserve in Masafer Yatta / South Hebron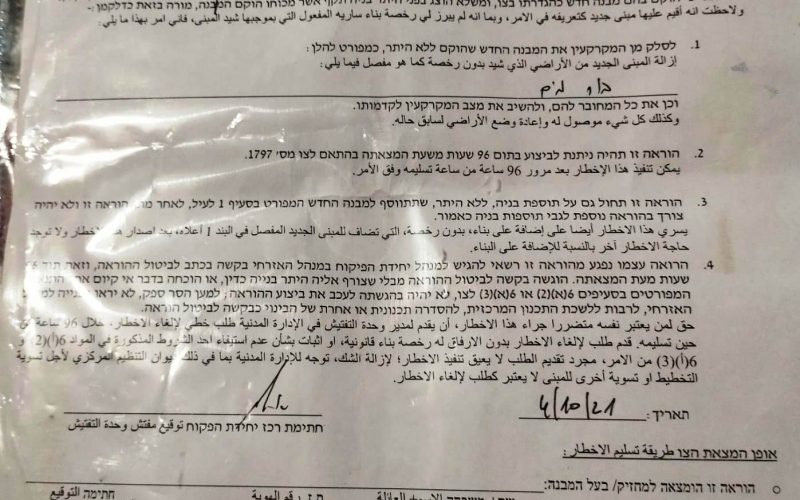 Violation: Removal notices for four cisterns.
Date: October 4th 2021.
Location: Khallet Ad-Dabe'a – Yatta town / Hebron Governorate.
Perpetrators: The Israeli Occupation Civil Administration.
Victims: Farmers of Masafer Yatta.
Description:
Monday, October 4th 2021, the Israeli Occupation issued demolition and removal notices for four cisterns, on the pretext of building without a license in Khallet Ad-Dabe'a in Masafer Yatta south Hebron governorate.
The threatened cistern is in a pastoral reserve northeast the village, the local village council head told LRC:
"Citizens from Ad-Dababsa and Al-'Amour families donated a plot with a total area of (256 dunums) to establish a pastoral reserve at the area. The project of establishing a natural reserve initiated last August, which included digging water harvesting cisterns, setting up a siege around the area, opening internal roads, planting pastoral trees, setting up a water network and reservoirs to contribute in irrigating the plants."
The reserve is Part of project RELAP which is being implemented by the Palestinian Ministry of Agriculture, and aims to rehabilitate the road, and finding postures for citizens at areas threatened of Colonization and forcible displacement.
The local village council head pointed out that it started with establishing cisterns, and a siege was sat up, to start with planting trees in November 15th 2021, but the occupation authorities served notices for the cisterns (storage capacity: 70 m3).
The Occupation Authorities Ordered to demolish and remove the cistern immediately in (Notice for a new building – 96 hours) , or otherwise the occupation forces will implement the demolition, and make the owners pay all the costs
Demolition Orders for Four Cisterns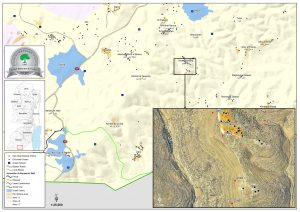 The Occupation Authorities issued the notice in reference to military order 1797 in 2018, which targets under construction buildings. Moreover, the occupation authorities refuse objections on the notice filed by the affected.
Demolishing the cistern will have a detrimental effect on the reserve project, because the cisterns are supposed to provide water for the pastoral area. Noteworthy, a large number of residences in Khallet Ad-Dabe'a and Masafer Yatta Depend on Cattle breeding for living.
About Khallet Al-Dabe'a:
It is located to the east of Yatta town and is considered one of the communities of the Masafer Yatta area. The hamlet populates 100 residents, who live off of agriculture and livestock husbandry.
Khallet Al-Dabe'a is run by Masafer Yatta village council. The hamlet is linked to Yatta town by an unpaved road, most of the town's houses are built of bricks and steal sheets , and does not cotain any services center.