New Water Line Pipes Installed East Qalqilya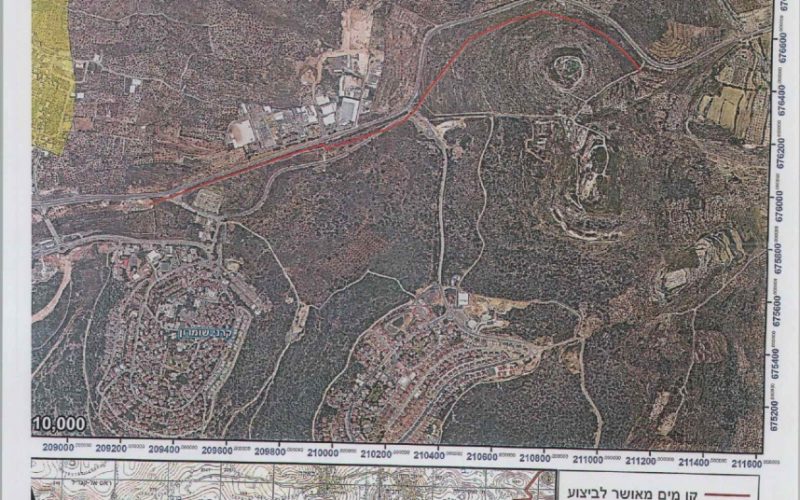 Violation: A military Order to install a water line that serves Israeli Colonies.
Location: Hajja, Jimsafut , Kafr Laqif / Qalqilya governorate.
Date: October 20th 2021.
Perpetrators: Officer of water affairs at the Israeli civil Administration.
Victims: Palestinians in villages of east Qalqilya.
Description:
Wednesday , October 20th 2021, The so called Water Affairs Officer at the "Israeli Civil Administration"  issued a military order attached to a map that targets villages east Qalqilya (Hajja , Jainsafut, Kafr Laqif) to establish a water line about 2.2 km * 24 inches , that starts from Karnei Shamron and ends at Kedumim colony east.
The military order was entitled order for water affairs number (1/123/2021) , that passes through the following Palestinian communities:
Kafr Laqif village: Natural block 4 , Harifat Ad-Duwas location.
Hajja village: Natural block 11 hariqat Al-Gharbi location , and natural block 15 Birya location.
Jinsafut village: Natural block 6 Al-Qarna Al-Shamiya location , Hariqat Othman.
Photos 1-4: Military Order to install a water line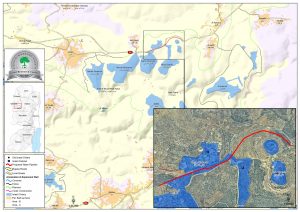 This is a part of the occupation's policies to take over water resources in Palestine, and deprive locals and the indigenous people from their right to exploit their water resources. Noteworthy, Qalqilya governorate was floating over the eastern artesian water basin , which in turn made it a fertile agricultural area , known of citrus, Guava , and rainfed crops production , and according to the Palestinian Central bureau of statistics , about 38.134 dunums in Qalquilya are planted with trees, 2954 dunums planted with vegetables , 7136 dunums are exploited in field crops production.
Nowadays, as a result of water shortage and Israeli control over water resources, many agricultural lands in Qalqilya turned into barren lands , left under confiscation swords, this has a devastating impact on the Palestinian agricultural sector.
The Worst is yet to come, the Israeli National Water company Mekorot is reducing water share for agricultural lands and villages in Qalqilya governorate, which resulted in a crisis, water only reaches houses in some areas a day a week, and while Palestinians have to pay for water (5 shekels / 1 Cube) , Israeli illegal colonists get free  water.
At the time the Israeli government is building illegal colonies with developed infrastructure and advanced water networks, to provide houses for tens of illegal colonists' families , it prohibits Palestinians from conducting any infrastructural development projects , or install water and electricity networks that reach Palestinian rural and marginalized communities . Moreover, a large number of demolition operations destroy water harvesting cisterns or reservoirs, Land Research Center Field observation team documented the demolition of 80 cisterns or pools, and threatening 60 others in 2021 at the West Bank including Jerusalem.
Prepared by
 The Land Research Center
LRC