Illegal Colonists Cut Down 100 Olive Saplings in At-Tayba east Jerusalem / Hebron Governorate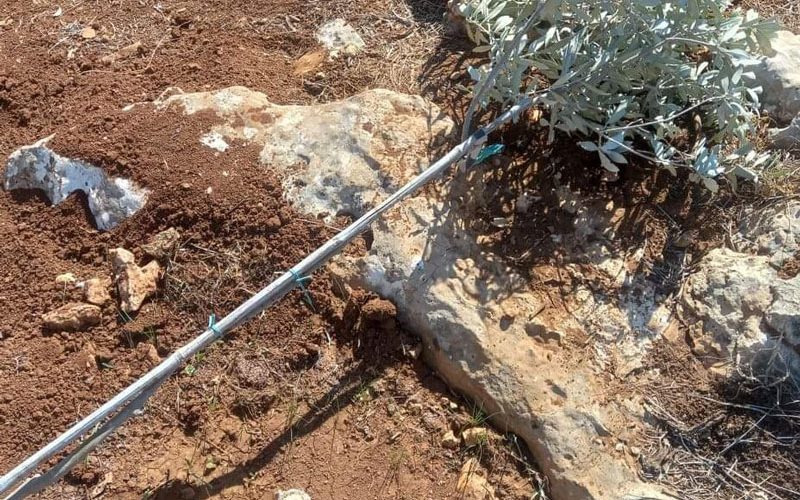 Violation: Cutting down olive saplings.
Date: October 8th 2021
Location: At-Tayba – Tarqumiya town / Hebron Governorate.
Perpetrators: Israeli illegal colonists.
Victims: Citizens 'Aziz and 'Omar Ja'afrah.
Description:
October 8th 2021, Israeli illegal colonists cut down 100 olive trees from citizens' lands in At-Tayba area east Tarqumiya west Hebron.
Affected Citizen 'Aziz Ja'afrah told LRC the following:
"I stay currently in a room at my plot in At-Tayba area to protect it from colonists' assaults. About 3:00 am of 'October I fell asleep and woke up two hours later, and when I woke up, radical Israeli colonists had already cut down and sabotaged a large number of olive trees."
Reportedly, 100 newly planted olive saplings were sabotaged – planted only two weeks ago, the age of the saplings according to Ja'afrah was three years when they bought them.
Photos 1+2: Ja'afrah's olive grove following the attack
Aziz Ja'afreh pointed out that the targeted trees belong to himself and his cousin Omar Ja'afrah , and that they went to the Israeli Occupation Police and filed a complaint . Noteworthy, this is not the first time 'Aziz and 'Omar Ja'afrah find themselves victims of colonists' assaults.
Telem Colony is illegally built on confiscated lands in the northern edges of At-Tayba village ,  and on the southern edges of the village the occupation built "Adora" colony, and bypass (road 35) divides the Khirbet Lands into two parts.
The Occupation Authorities intensively serves halt of work notices and demolition orders in At-Tayba village, they also implemented large demolition operations that targeted agricultural and residential structures.
A glimpse on Tarqumiya town:[1]
The town of Tarqumiya is located 10 km to the west of Hebron, and it is bordered to the north by the towns of Beit Ula and Beit Kahel, to the west by Idna town, to the east by Hebron city and Tafuh town, and to the south by the towns of Tafuh and Dora.
Its population is 19,311 people as of 2017. The total area of ​​the village is 22,106 dunums, of which 2,117 dunums are a built-up area.
The total of 948 dunums of the town's land was seized for the construction of the two following settlements:
At least 442 dunums for Adora settlement established in 1982 and now inhabited by 191 settlers.
At least 506 dunums for Telem settlement established  in 1981 and now inhabited by 127 settlers.
Tarqumiya land classification by Olso agreement:
Areas classified as B constitutes 37% equal to 8,186 dunums.
Areas classified as C constitutes 63% equal to 13,920 dunums.
[1] GIS-LRC
Prepared by
 The Land Research Center
LRC