Eviction Notice Served to Sabah Family in Taqu' town / Bethlehem Governorate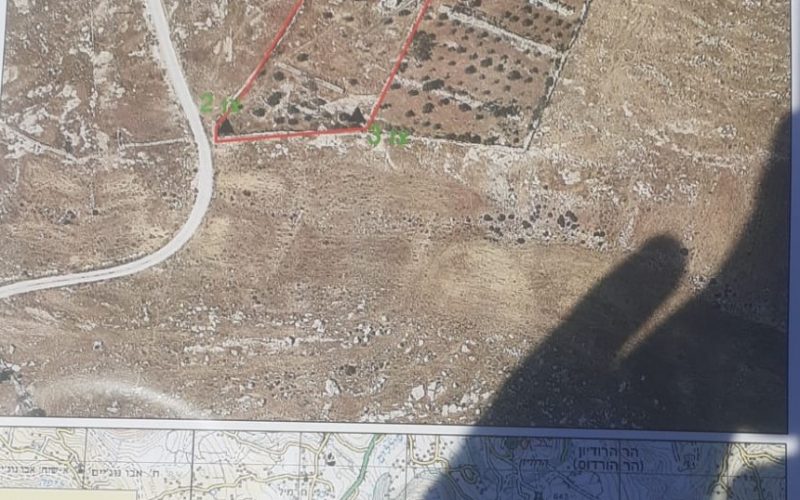 Violation: Eviction notice targets a 2 dunums plot.
Location: Ghuzlan area – Tuqu' / Bethlehem Governorate.
Date: October 5th 2021.
Perpetrators: The Israeli Civil Administration – The Responsible on Governmental properties.
Victims: Citizen Suliman As-Sabah.
Description:
Tuesday, October 5th 2021, Governmental properties inspector gave citizen Hassan Sabah an eviction military order, to return the plot to its previous status within 45 days, on the pretext of using an "Israeli state property".
A run of Sabah's misfortune, Israeli illegal colonists seized a part of Taqu' lands and built Teko'a colony close to him. Consequently, the occupation authorities on the pretext of protecting colonists, prohibited farmers from using their lands nearby Teko'a.
According to the notices, a citizen will have to remove the retaining walls and 50 olive and fruits trees, in addition to a building and a store. the owner of the land has legal papers to prove he owns the land, and he visits the plot everyday despite the occupation's continuous assaults.
Citizen Hassan – Suliman As-Sabah nephew told LRC:
"My uncle received the notice while he was at the farmland taking care of the plants, this is our land and it Is our right to use it. My uncle however prepared a legal file for all the necessary papers." The following table shows more information about the targeted families:
| | | | |
| --- | --- | --- | --- |
| Affected Citizen | Family members |  Notice type | Notice number |
| Hassan Sabah | 2 | Eviction notice for a 2 dunums plot | 001778 |
Photos 1-2: Eviction notice photos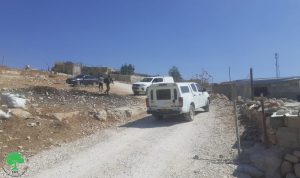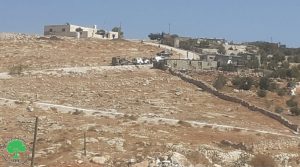 Photo number 4+3: The targeted plot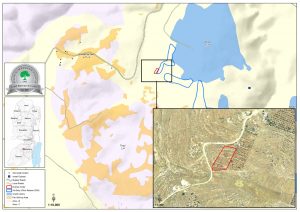 Legal Feedback:
Israeli colonial expansion and activates in the West Bank is a violation of international Law and Conventions, such as:
 Hague Convention of 1907:
Article 46: Private property cannot be confiscated.
Art. 55. The occupying State shall be regarded only as administrator and usufructuary of public buildings, real estate, forests, and agricultural estates belonging to the hostile State, and situated in the occupied country. It must safeguard the capital of these properties, and administer them in accordance with the rules of usufruct.
Geneva Convention of 1949:
Article 49: The Occupying Power shall not deport or transfer parts of its own civilian population into the territory it occupies.
Article 53: Any destruction by the Occupying Power of real or personal property belonging individually or collectively to private persons, or to the State, or to other public authorities, or to social or cooperative organizations, is prohibited, except where such destruction is rendered absolutely necessary by military operations.
Article 147: Grave breaches to which the preceding Article relates shall be those involving any of the following acts, if committed against persons or property protected by the present Convention.
About Tuqu':[1]
5 Km south Bethlehem, Tuqu' is surrounded by Ash-Shawawra, Za'atara, Khalet Al-Hadad and Jannatah (north), Marah Ma'ala, Al-Ma'asara and Beit Fajar (West), the Dead sea (East), Kissan village (South).
Tuqu' has a population of 8767 people in 2017 census. The village has a total area of 199,634 dunums, of which 1627 dunums are the town's built up area , which includes ( Tuqu', Khirbet Ad-Dear, Al-Mansheyeh, Beit Fajar, Kissan, Al-Menyeh, Al-Holqum, Wadi Mohammad, Khirbet Tuqu' and Marah Ma'ala."
The Israeli occupation authorities devoured about 1570 dunums for the following purposes:
"Tquah" settlement was established in 1977 , on 1,033 dunums of Palestinian confiscated lands, inhabited by 1,116 settlers.
"Mushki Dar Got" was established in 1991, and confiscated 93 dunums.
"Nokdim" was established in 1982 , and confiscated 345 dunums, inhabited by 646 people.
Bypass roads 356/3157/3670 devoured more than 99 dunums.
Oslo accords divided the land into C and B areas:
B area: 3,954 dunums.
C area: 195,680 dunums / of which 46,841 dunums are a natural reserve.
[1] GIS-LRC
Prepared by
 The Land Research Center
LRC