Demolition notice targets a Citizen's house in Zenuta village / South Hebron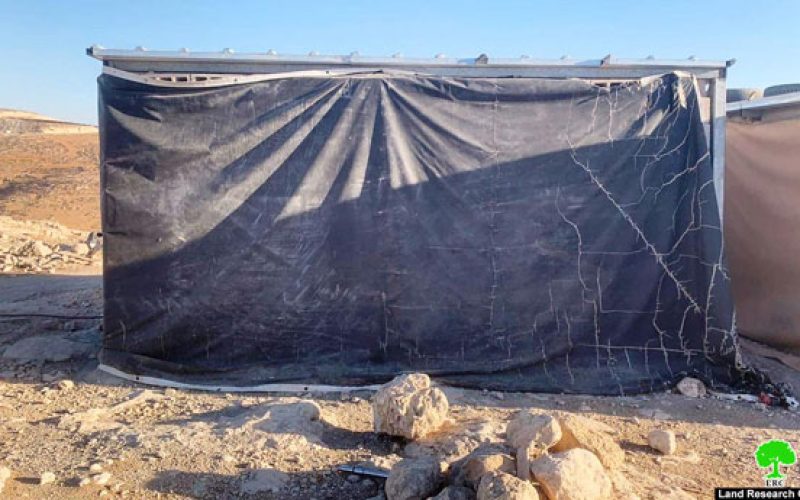 Violation: Final Demolition notice for a house.
Date: October 28th 2021.
Location: Zenuta – Ad-Dhaheriya / Hebron Governorate.
Perpetrators: The Israeli Civil Administration.
Victims: Citizen Rashad At-Tell.
Description:
Thursday, October 28th 2021, the Israeli Occupation Authorities issued a final halt of work order for house of citizen Rashad At-tell , on the pretext of building without a license in Zenuta village southeast Qalqilya , Hebron Governorate.
A vehicle belongs to the so called building and organization department at the civil administration, accompanied by a military vehicle belongs to the Israeli occupation, raided the area and arrived at citizen Rashad At-Tell house , the building inspector signed the notice, hanged it on the house, then took a picture of it before leaving the location (to proof that it was served) .
The Demolition order holds number (61546), in which the occupation authorities ordered to demolish what is built within 7 days, and threatened in case the owner did not carry out he demolition himself the occupation authorities will demolish the structures and make him pay all the costs.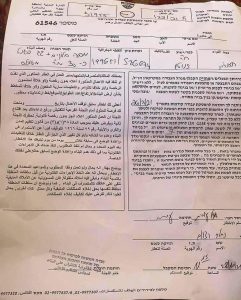 Demolition order number 61545 which targets house of Citizen Rashad At-Tell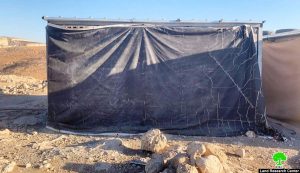 Photo 1: a view of the targeted house
Reportedly, the targeted house was built in 2018  of bricks and steel sheets ceiling and with the aid of a Humanitarian institution , to be a home for a family of 8 , 6 children, and the house has a total area of 30 m2.
In July 26th 2021, the Occupation issued a halt of work order for the house, the citizen hired a lawyer to object on the notice , but the occupation forces came back and served a final demolition order.
 Zanuta village:[1]
The village is located to the south of the town of Dhahriya, and its population is about 200 people who live in tents and tin dwellings, and they work in raising livestock and cultivating lands.
It is bordered on the east by the colonial outpost "Mitarim", on the north and west by the bypass road (60), and on the south by the annexation and expansion wall. The village has been run by a village council recognized by the Palestinian Ministry of Local Government since 2019.
The entire village is under threat of deportation, as the occupation authorities claim that it is built on an archaeological site, despite the fact that this village has been owned by the residents of the town of Dhahiriya since ancient times.
[1] GIS-LRC
Prepared by
 The Land Research Center
LRC