Illegal Colonists Wage an Attack Against Citizens and Their Properties in Masafer Yatta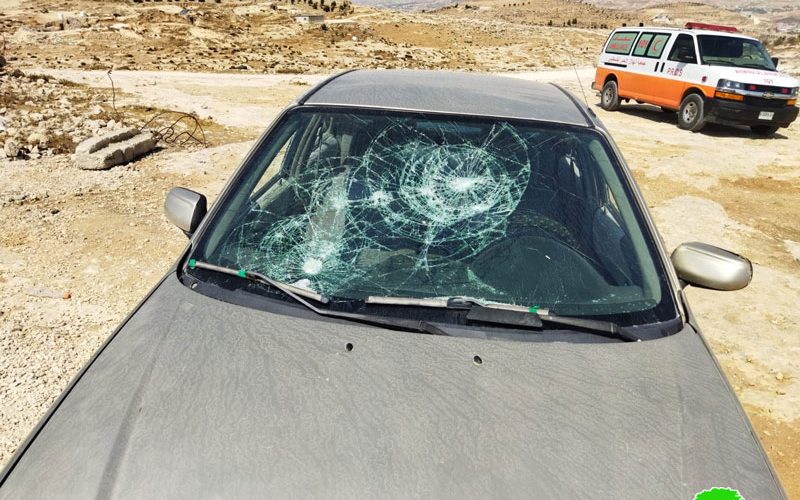 Violation: Colonists attack.
Date: Sept 28th 2021.
Locations: Ar-Rakeez and Al-Mfaqara – Yatta town / Hebron Governorate.
Perpetrators: Israeli illegal colonists.
Victims: People of Al-Mfaqara and Ar-Rakiz.
Description:
Wednesday, September 28th 2021, Israeli illegal Colonists carried out attacks on Houses in Masafer Yatta.
About 1:00 pm, 10 illegal Israeli colonists from Avigal were herding nearby Ar-Rakeez village, and attacked citizen Raed Hamamda (43) who was herding along with two of his children.
Reportedly, fanatic Colonists attacked the herd with metal sticks and sharp tools, and four sheep were killed, they later chased the herd towards the nearby village of Al-Mfaqara, and attacked a citizen and his children, but he managed to run to the community of Al-Mfaqara where people tried to turn away the attack. Few minutes later, An Israeli military vehicle raided the village to protect colonists as they go back to the colony.
Half an hour later, people of Al-Mufqara were shocked of an attack of about (50-60) colonists holding metal sticks and sharp tools, and attacked farmers of Al-Mfqara village and their herds, one of them was seriously injured after he fell to the ground and was beaten with sharp tools. Illegal colonists then spread around citizens houses and threw stones on them, which caused a state of panic among citizens that failed to turn away the assault.
To make the situation more difficult to people of Al-Mufaqara community, A group of colonists about (40) followed them from Ma'on colony, some of them were covering their faces, and every one was holding guns, batons, and metal tools , they carried out a massive attack , and prohibited people of Al-Mfaqara from leaving their houses , and as a result of their large numbers , the ambulance couldn't access the area to help the injured.
Photos 1-8:  A group of colonists attacked citizens and their properties in Al-Mfaqara village
After Several calls, the Israeli occupation forces and the so-called border guards raided the area and fired Tear gas towards citizens and secured their withdrawal to the colonies. After a while, ambulances related to the red crescent society raided the village, and took the injured to hospital, among them:
| | | | |
| --- | --- | --- | --- |
| No. | Injured citizen | age | About the injury |
| 1 | Mohammed Hamamda | 4 | Serious head injury |
| 2 | Raghad Hamamda | 1 | Suffocation due to tear gas inhalation |
| 3 | Juleen Hamamada | 1 | Suffocation due to tear gas inhalation |
| 4 | Fadi Hamamda | 25 | Injury in the head |
| 5 | Mahmoud Hamamda | 55 | Injury in the hand |
| 6 | N'uman Hamamda | 57 | Injury in the feet |
| 7 | M'uaz Hamamda | 22 | Injury in the head |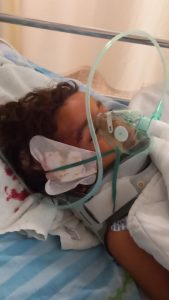 Photo 9: Injured Child Mohammed Hamamdeh on the hospital bed – Photo taken by Mohammed Raba'e
The smashed vehicles belong to: 'Abdo Hamamda , Mahmoud Raba'e , Yassir Hamamda , Ja'afar Hamamda , Omar Hamamda , Mu'az Hamada , Fadel Hamamda , Hussain Hamamda.
Noteworthy, Al-Mfaqara and Ar-Rakeez are the closest communities to Avigal illegal colony, they are also close to Ma'on colony which is about (700 m) away from Al-Mfaqara. The area is also close to At-Tawani village, where the occupation authorities carried out numerous assaults in order to force people of the village to leave the area, noting that citizens in Al-Mfaqara and Ar-Rakiz live in caves and steel sheets.
Khirbet al-Mafqara:                
It is a primitive community that is located 17 km to the far east  of Yatta town. The Khirbet populates around 73 people according to 2017 census, who are divided on 22 family from the al-Hamamdeh clan. Noteworthy, the khirbet is administered by a joint village council for the khirbets of al-Mafqra and al-Tawani , which  is ran by Mr. Saber al-Herini .
Al-Mafqara borders:
Khafat Maaon settlement, built on confiscated lands to the north.
Afai Gal and bypass road no. 60, on confiscated lands to the west.
Yaqub Dalia colony, on confiscated lands to the south.
Maaon colony on confiscated lands to the east.
Prepared by
 The Land Research Center
LRC