A Group of Colonists sabotage Seven Olive Saplings and Destroy a Metal Gate / Sinjil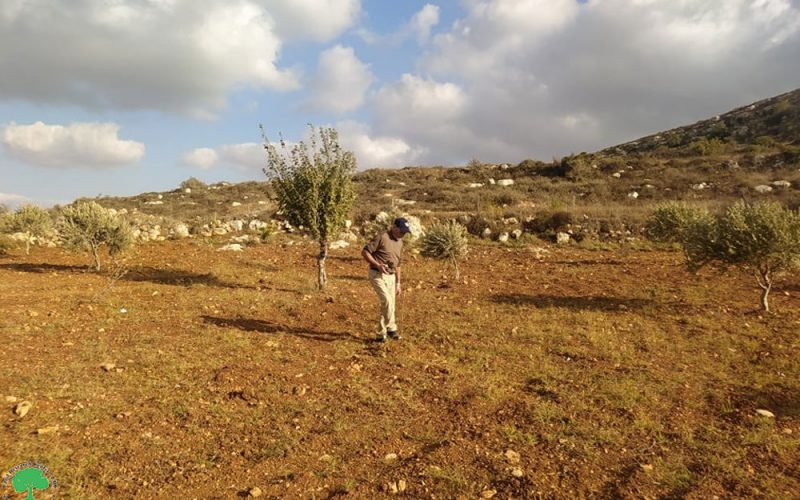 Violation: Sabotaging 7 Olive Saplings and destroying a metal gate.
Location: Sinjil town / North Ramallah.
Date: Saturday (September 12th 2021).
Perpetrators: A group of colonists' gangs.
Victims: Farmer Rebhi Al-Ghafri.
Description:
September 12th 2021, Farmer Rebhi Al-Ghafri (62) went to his plot in Ar-Rumana area north Sinjil , and found that colonists sabotaged a gate on a fence that surrounds a 3 dunums plot, to break in the plot and destroy 3 olive saplings.
The targeted plot is 200 m away from another location illegally garbed in 2001, where the occupation constructed an outpost under the name Kiryat Haroel on Sinjil lands, the outpost residents expand and destroy farm lands.
Farmer Rebhi Al-Ghafri told LRC:
"This is not the first time I find myself targeted by colonists' vicious assaults, during the past three years, I was s victim of more than six assaults, I submitted complaints to the Israeli Civil Administration and police each time but in vain , the occupation authorities never opened a serious an investigation on this regard."
Al-Ghafri pointed out: "I check up on my land every day, that is surrounded by Giva't Haro'a and Kiryat Haroel outpost, in addition to the Military Camp, despite that he supports a family of 6, 3 of them are females."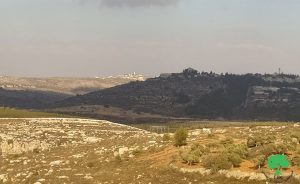 Photos 1-3: Scenes from the attack
Colonists set up a fence:
Last August, Illegal colonists sat up a gazebo on an area of 16 m2 of pastoral lands , that the occupation claims and considers "Israeli state property" at Ar-Rumana area north Sinjil town . Farmers and landowners submitted a complaint to Israeli relevant bodies, the occupation on the other hand claimed that the gazebo is a resting place for colonists during their environmental tours, while on the ground , this is a keystone for a new outpost .
Noteworthy, the area contains a number of olive groves that belong to farmers from Sijil , after installation of the gazebo the lands became more exposed to colonist assaults and land grabs.
Photo 7: The gazebo
The Attached map
About Sinjil:[1]
20 kilometer north of Ramallah, Sinjil is surrounded by Al Labn Ash Sharqia (north), 'Abween and Jaljilia (west), Qaryut and Turmus'ayya (east), and Al Mazr'a Ash sharqia (south).
Sinjil has a total population of 5742 people according to statistics conducted in 2017. It has a total area of 14028of which 888 are a built-up area of the village.
The Israeli occupation devoured 551 dunums of the lands of the village for two colonies. The first one is Maale Levona which was built in 1983 and confiscated 298 dunums of the village, and inhabited by 497 colonists. The second is Eli which was built in 1984 and devoured 253 dunums, and inhabited by 2058 colonists.
Moreover, bypass number '60 took over 246 dunums of the village lands.
According to Oslo Accords, 14% of Sinjil is under Area A (PA has full civil and security control) while 30% is under Area B (PA is in charge of civil matters with Israel responsible for security). However, most of the village lands (56%) is under Area C (Israel maintains full security and administrative control). Here are the area in dunums:
Area A (1980) dunums
Area B (4140) dunums
Area C (7908) dunums
 [1] GIS-LRC
Prepared by
 The Land Research Center
LRC