The Civil Administration Demolishes a Store in Ya'bad town / Jenin Governorate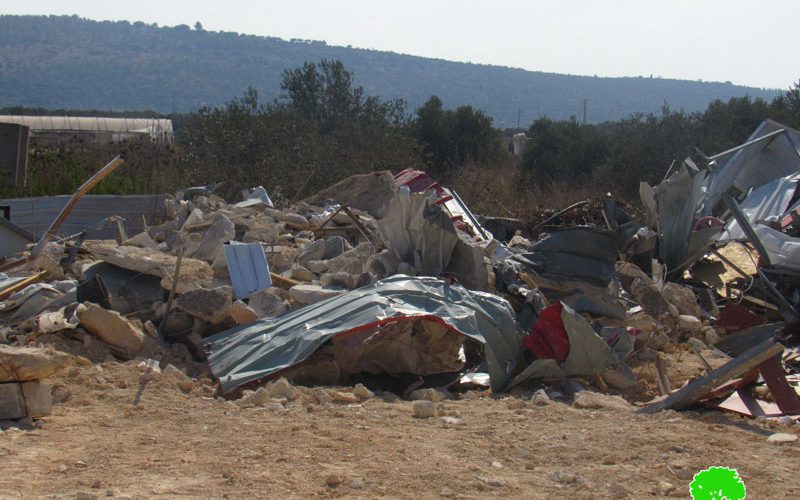 Violation: Demolishing a store.
Location: Ya'bad town north Jenin city.
Date: August 18th 2021.
Perpetrators: The building inspector at the Israeli Civil Administration.
Victims: Citizen Mohammed 'Atatra.
Description:
For the Second time in August 2021, the Israeli Occupation targets stores nearby the western entrance of Ya'bad. About 10:00 am Wednesday, August 18th 2021, the Israeli Occupation accompanied by the building inspector raided the area, and demolished a structure with a total area of 64 m2 used as a cafeteria, then ravaged the neighboring land. The targeted structure provides a source of income for the supporter of a family of 4 (2 females, and 2 children).
Scenes from the demolition site – Ya'bad town
Last March, 'Atatra told LRC that he received a removal notice on the pretext of building without a license, the notice was issued in reference to military order 1797, the targeted structures are a grocery store, and a Cafeteria.
 In August 9th 2021, the occupation demolished one of the structures, and came back in August 18th to demolish the other, the financial loss amounted to 140,000 Shekels, and the owner lost his only source of income.
Early August, Land Research Center Documented the demolition of three stores in Ya'bad town, this is part of Israeli measurements that deprives Palestinians from their basic rights and that make a clear violation of international conventions and agreements.
A Glimpse of Ya'bad:[1]
18 km to the west of Jenin , and surrounded by Al-Kheljan , At-Tarm, Al-'Arqa , Imreha , Khirbet Mas'oud , Zibda , Tura , Nazlat Ash-Shaikh Zayed (North) , Quffin (west) , Al-Kafriyat Village (east) , 'Arraba , Kafr Ra'ie, An-Nazla Ash-Sharqiya , Baqa Ash-Sharqiya (South).
Ya'abad has a population of 16 ,012 people according to 2017 census, and a total area of 29572 dunums , of which 1814 dunums are a built up area.
 The Occupation Confiscated 1840 dunums for the following:
Israeli Colonies confiscated 483 dunums of the town's lands for: Mevo Dotan and Hermesh Colony.
The Occupation Confiscated 1357 dunums for bypasses 596 and 585.
Oslo Accords Divided the town's lands as follows:
Area (A) : 1674 dunums.
Area (B): 8124 dunums.
Area (C ): 19774 dunums.
[1] GIS-LRC