Notices Target an Under-Construction House in Jit Village / Qalqilya Governorate
Violation: Removal notice for an under-construction house.
Location: Jit village / Qaqliya governorate.
Date: August 4th 2021.
Perpetrators: The Israeli Civil Administration.
Victims: Citizen Samed Khader.
Description:
Wednesday Morning August 4th 2021, The Israeli Occupation Forces and the building inspector at the Civil Administration raided the western neighborhood of Jit village, and served notice number (20145) that imposes the demolition and removal of an under-construction house within 96 hours, on the pretext of building without a license.
The targeted house consists of one under construction floor with a total area of 120 m2 , and belongs to citizen Samid Khader (37), who supports a family of 7 people, 5 of them are children (including 3 females).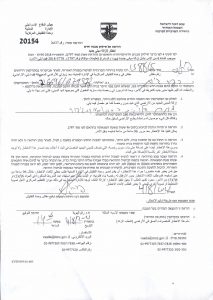 Notice number 20154 that targets family of citizen Samid Al-Khader
Photo 1: affected citizen house
Khader told LRC:
"I own a plot with a total area of (800 m2) and I built a house for my family. I came back to the house on Wednesday afternoon and found a demolition notice hanged on the house walls, the construction of the house caused about 90,000 Nis, almost all of them are debts."
The notice was issued based on Military order (1797), which was activated in 2018, the goal was to stop objections filed by Palestinians against Israeli military orders distributed by dozens in large numbers in Palestinian villages. This type of military orders only issued against new structures (built in the past 6 months) , or inhabited for less than a month.
More than 70 residential and agricultural facilities in the village received Halt of Work Notices, the built-up area does not cover the population's needs. Consequently, people of the village have to build in "C" area according to Oslo accords, where they become under demolition threats.
In reality, the issue is not about unlicensed construction, its about keeping C area a reserve for colonialist projects, which covers about 62% of the West Bank. The Occupation considers these lands an expansion area for their illegal colonies, and prohibits Palestinians from exploiting their own lands for construction or even agriculture.
Jit village:[1]
Jit is located 25 km east Qalqilya , and bordered by Qousin and Kafr Qadoum (north), Kafr Qadoum (west) , Surra (east) and Fara'ata and Imatin (south).
Jit has a population of (2405) people until 2017 censes.
Jit is blocked  by "Kedumim Tzifun" and "Jeva'at Hamarkaziz" illegal settlements (north) , "Kedumim" and "Jit" illegal settlements(west) , the settlements were built on confiscated Palestinian lands.
Bypass roads 55 and 60 devoured 378 dunums of the town's lands.
The segregation wall plan, in case it was implemented, will devour (787) dunums under its route, isolate (292) dunums and be (2871) m long.
Oslo accords divided the village lands as the following:
B area : 2,155 dunums.
C area: 4,198 dunums.
[1] GIS-LRC