Halt of Work Notice for Structures in Sadet Ath-Tha'ala village – Hebron Governorate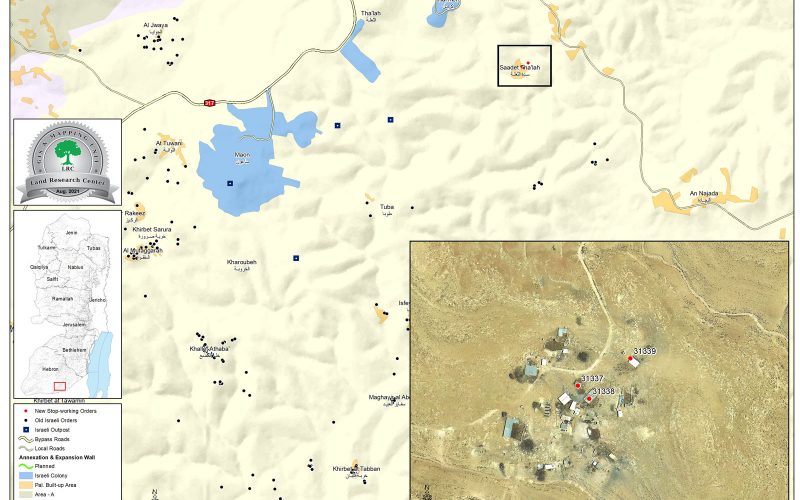 Violation: Halt of Work Notices.
Date: August 16th 2021.
Location: Sadet Ath-Tha'ala – East Yatta / Hebron Governorate
Perpetrators: The Israeli Occupation Civil Administration.
Victims: Yousif and Mohammed 'Awad.
Description:
Monday, August 16th 2021, The Israeli Occupation Forces served halt of work notices on the pretext of building without a license in Sadet Ath-Tha'ala village, one of Masafer Yatta villages south Hebron.
One of the Victims, Yousif 'Eleyan said that a vehicle belongs to the building and Organization Department at the Civil Administration and an army patrol raided the area at 11:00 am, and wrote the notices hanged them on the targeted structures then withdrew.
The notices were entitled "Halt of Work / Construction notice" , and ordered the immediate stoppage of construction works on the pretext of building without a license , and sat September 1st as the date of the subcommittee session in "Beit El" military court to decide the fate of the structures.
The following table shows more information about the targeted structures:
Affected Citizen

Family members

Area m2

Notice number

notes

Mohammed 'Awad

10

45

A structure of bricks and steel sheets , built in 2012 but rehabilitated recently

200

Shack used as a barn and contains 150 head of sheep, built of steel sheets since 2000 but was rehabilitated recently

Yousif 'Awad

14

180

A shack used as a barn 150 heads of sheep, built since 2010 and was rehabilitated recently

4

Outdoor bathroom built of bricks since 2015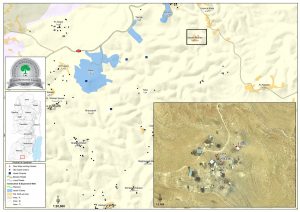 Noteworthy, Sadet Ath-Tha'ala area is one of the old villages in Masafer Yatta , and it is in the borders of Masafer Yatta village council (which covers 14 villages), located to the east of Umm Al-Khair village. Sadet Ath-Tha'ala area has a total population of 150 people, who depend mainly on agriculture and cattle breeding as a main source of income.
Citizens depend on Solar panels to cover their needs of electricity, and harvested water for domestic uses and barns.
In 2020, colonists established a new outpost on the village lands , and they are heavily targeting farmers and herders to impose more control on the area.
For more information about Israeli Violations in Sadet Ath-Tha'ala , read our reports: