Demolition of Structures and a Barn in Qaffin town / Tulkarm Governorate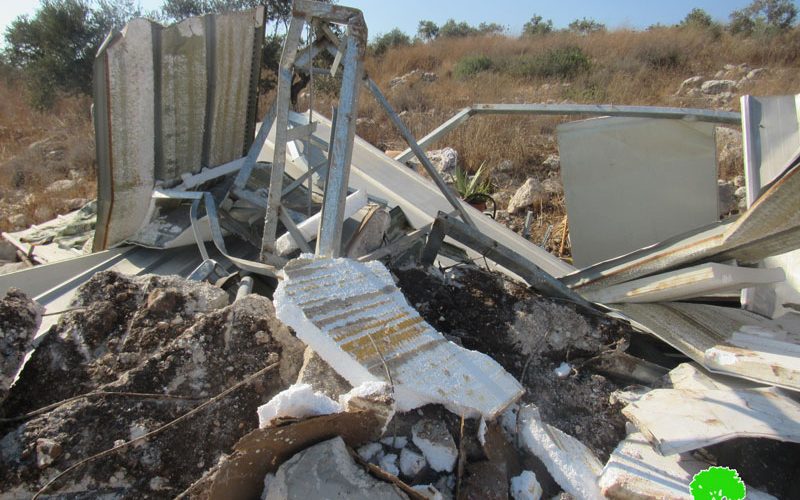 Violation: Demolition of facilities.
Location: Qaffin town / Tulkarm governorate.
Date: August 19th 2021.
Perpetrators: The building inspector at the Israeli Civil Administration with the protection of the occupation army.
Victims: Citizen Nidal 'Ajouli.
Description:
Thursday morning, August 19th 2021, The Israeli Occupation Forces accompanied by the building inspector at the civil administration raided Qaffin forest in Tulkarm Governorate and carried out a demolition operation for a shack used as a residence (24 m2), in addition to demolishing a barn built of woods and metal (90 m2).
The targeted facility belongs to citizen Nidal 'Ajouli (42) , who lives at the targeted room and works in cattle breeding he owns about 35 heads of sheep. After the demolition, the Occupation forces arrested the owner and took him to a nearby military camp. Noteworthy, the owners relatives said that he did not receive any preceding notices.
Photos 1-5: Views of the targeted structures
The Forest area of Quffin covers about 60 dunums, and constantly targeted by the occupation. Only 150 m from Qaffin, the occupation constructed "Harmish" colony, and to the west of the forest there is an outpost illegally built three years ago. On the other hand, Palestinian projects at the area are targeted and demolished , such as a "play ground" project in 2014 , these measures aim to empty the area for future colonial expansion.
About Qaffin:[1]
20 km north Tulkarim, Qaffin is surrounded by Aqaba and Dhaher Al-Abed (north), the green line (the occupied territories of 1948) – (West), Ya'abad (east), Nazlet Issa and Baqa Ash-Sharqiya (south).
Qaffin is populated 10,690 people in 2017.
Qaffin has an area of 8,834 dunums , 1,352 dunums are the town's built up area. 
The occupation devoured 400 dunums , of which 30 dunums were exploited for bypass 585. The occupation also constructed a segregation wall which is 3,760 m long, which ate up 370 dunums and blocked 1,533 dunums.
Oslo conventions divided the town's lands as the following:
B area : 1,888 dunums.
C area: (6,946) dunums.
Most of Qaffin people depend mainly on agriculture for living , 90 % of the town's lands are olive groves.
The town contains several clans : Ta'ama, Ammar, Sabah, Khatib, Kattana , Amarna , Ajouli and Zain.
International Conventions and agreements pertaining to demolition of properties:
Article 147 of Geneva fourth convention : extensive destruction and appropriation of property, not justified by military necessity and carried out unlawfully and wantonly. ( it is considered a serious violation of the convention)
Article 53 of Geneva fourth convention that forbids destroying properties : Any destruction by the Occupying Power of real or personal property belonging individually or collectively to private persons, or to the State, or to other public authorities, or to social or co-operative organizations, is prohibited, except where such destruction is rendered absolutely necessary by military operations.
Article 33 of Geneva fourth convention: No protected person may be punished for an offence he or she has not personally committed.
Article 32 of Hague convention 1907 part g: To destroy or seize the enemy's property, unless such destruction or seizure be imperatively demanded by the necessities of war.
Article 17 of Universal declaration of human rights 10 –Dec- 1948:  No one shall be arbitrarily deprived of his property.
[1] GIS-LRC