Demolishing and Confecting Agricultural Structures in Ad-Dhaheriya/ Hebron Governorate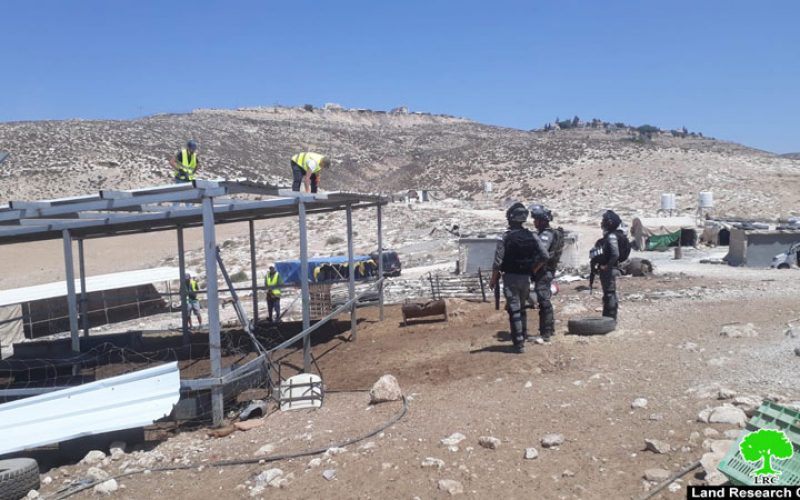 Violation: Demolishing Agricultural Facilities.
Date: August 24th 2021.
Location: Khirbet Ar-Rahwa – Ad-Dhaheriya town / Hebron Governorate.
Perpetrators: The Israeli Civil Administration.
Victims: four farmers from the khirbet.
Description:
Tuesday, August 24th 2021, The Israeli Occupation Forces carried out demolishing an agricultural facility on the pretext of building without a license in Khirbet Ar-Rahawa south Ad-Dhaheriya – Hebron Governorate.
Affected Citizen said that the border guards and vehicle from the Building and Organization department raided the Khirbet about 8:00 am, along with a caterpillar bulldozer and a Truck Crane, and arrived to the eastern part of the Khirbet, and dismantled two structures then confiscated them.
Photos 1-6: Demolition and Confiscation of Agricultural Structures – Khirbet Ar-Rahwa
The Israeli Occupation Authorities later went to the western side of the village , and dismantled other two facilities.  Noteworthy, the four targeted facilities are built of steel sheets and used as barns, and the owners depend on Cattle breeding as a main source of income.
The structures were leveled without any preceding notices. However, the owners pointed out that a Civil Administration officer had told them to demolish the structures in the past, but did not give them a written notice.
Before withdrawal, the Occupation authorities left a written confiscation notice for the targeted structures, and pointed out that the parts will be kept in "Kfar 'Etzion" colony.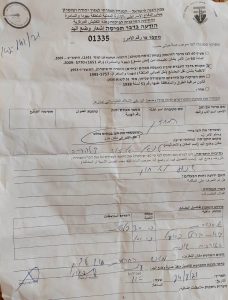 Photo 7: The confiscation notice for the agricultural structures
| | | | |
| --- | --- | --- | --- |
| Affected Citizen | Family members | children |  Heads of Sheep |
| Jamal Makharza | 9 | 4 | 120 |
| Ahmed Makharza | 6 | 4 | 90 |
| Ashraf At-Tell | 7 | 5 | 80 |
| Ayman At-Tell | 9 | 6 | 150 |
Each facility has a total area of 80 m2, and was built in June 2021, the structures were provided by a human rights organization within a project funded by the European Union and aims to support farmers' steadfastness at the Area.
Khirbet Ar-Rahwa is inhabited by 200 people who depend on Agriculture and cattle breeding for living, and they live in structures of steel and plastic sheets and caves, the Khirbet is surrounded by Tina colony and two outposts.
Prepared by
 The Land Research Center
LRC