The Occupation Authorities Issued Eviction Notices in Wad Fokeen village/ Bethlehem Governorate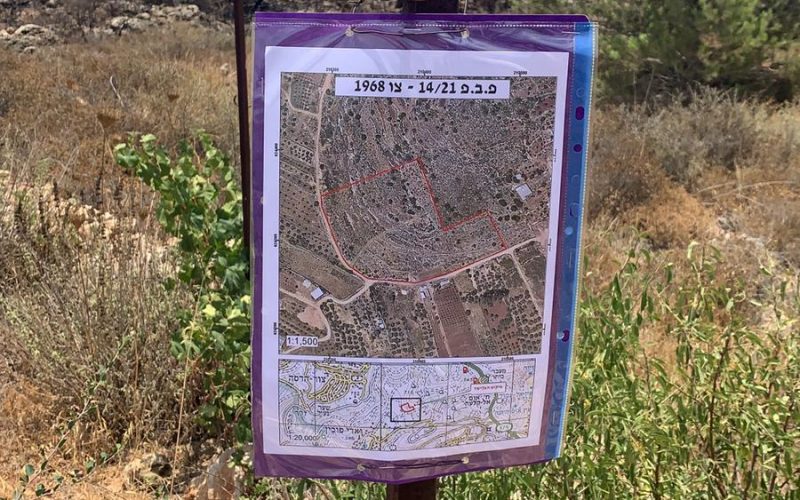 Violation: Eviction Notices for 60 dunums of agricultural lands.
Location: Wad Fokeen – Bethlehem Governorate.
Date: July 5th 2021.
Perpetrators: The Israeli Civil Administration and the occupation army.
Victims: Families of Jameel 'Assaf, Mohammed 'Assaf, 'Issam Juma'a , Mohammed Musa , Mohammed Abu Mefreh , Sabri Manasra , 'Ali Abu Hattab.
Description:
Monday, July 5th 2021, the Israeli Occupation forces raided Wad Fokeen village, and gave an eviction notice to citizens from Wad Fokeen village.
One of the victims, Citizen Mohammed Manasra told LRC:
"The Israeli Civil Administration served a notice to the farmland that I inherited from my grandfather. Since we were children, we saw our father planting and taking care of the land every single day, and we decided to walk in his footsteps, we also depend mainly on the land as a vital source of income."
The Eviction notice also ordered the owner to evict the plot and returning it to its previous status within 45 days. Or otherwise, the occupation's machineries will carry out the eviction.
Photos 1-4: Eviction Notice delivered to the family of Mohammed Manasra
Citizens filed the necessary papers to Israeli courts, in order to follow up the necessary procedures to defend their land.
The targeted lands are the only expansion space for the village , and land grabs has a catastrophic impact on the locals, not only for shrink of construction areas,  but because a large part of the  people depend on agriculture for living.
One of the victim, Mohammed Juma'a told LRC: The Occupation confiscated 5 dunums from me. As a result, we've been suffering for years , I received an eviction notice from the civil administration. Noteworthy, this is not the first time , ten years ago they demolished a cistern at the plot , despite that we'll never leave our and."
The following table shows more information about the victims:     
| | | | |
| --- | --- | --- | --- |
| Name | Family members | Children | Confiscated |
| Mohammed Mefreh | 9 | 0 | 2 dunums |
| Mohammed 'Atiya | 6 | 0 | – |
| Mohammed Juma'a | 7 | 2 | 5 dunums |
| Sabri Manasra | – | – | 16 dunums |
| 'Ali Abu Hattab | – | – | – |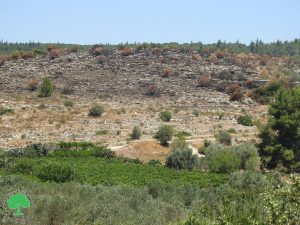 Photos 5-9: Lands threatened of eviction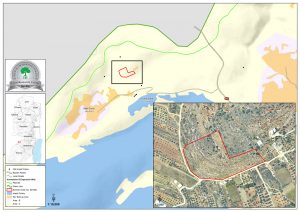 About Wad Fokeen:[1]
It is located 15 kilometers to west of Bethlehem and is surrounded by the borders of 1967 (north and west), Nahhalin and Husan (east), and Jab'a (south).
Wad Fokeen has a total population of 1168 according to statistics conducted in 2007. It has a total area of 3817 dunums, of which 161 dunums are considered built-up area.
The Israeli occupation confiscated 299 dunums of Wad Fokeen lands for the sake of two colonies. The first is Har Hadasa which was built in 1978 and devoured 4 dunums while the other is Betar Illit which was built in 1985 and confiscated 295 dunums.
The Apartheid Wall confiscated 402 dunums and isolated 980 dunums in a way that denies people access to their lands. The length of the constructed Wall on Fukin lands is 4,029 meters.
According to Oslo Accords, 7% of Wad Fokeen is under Area B (PA is in charge of civil matters with Israel responsible for security) while most of the village lands (93%) is under Area C (Israel maintains full security and administrative control). Here are the area in dunums:
Area B (275) dunums
Area C (3500) dunums
[1] GIS-LRC
Prepared by
 The Land Research Center
LRC