Israeli Notices Target Structures in Masafer Yatta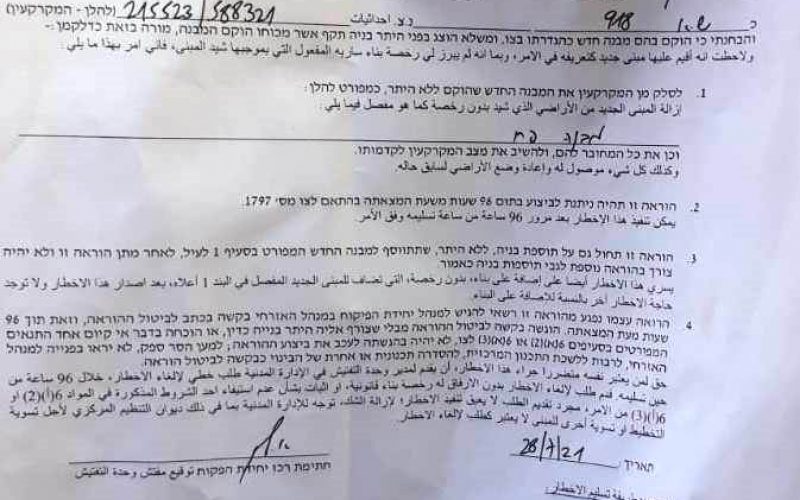 Violation: Demolition notices for new structures.
Date: 27 July 2021.
Location: Masafer Yatta / Hebron Governorate.
Perpetrators: the Israeli Civil Administration.
Victims: families of Jaber Dababsa and Foad Al-'Amour.
Description:
July 21st 2021, the Israeli Occupation Authorities demolished and removed a water cistern, on the pretext of building without a license in "Khallet Ad-Dabe'a" in Masafer Yatta / south Hebron.
Jaber Dababsa said that a vehicle belongs to the Israeli Occupation Government – The Building and Organization Department raided the village, and the building inspector pasted a notice entitled "Removal of a New Building" on the targeted cistern.
In notice (20458) the Occupation Authority threatened to remove the cistern, within 96 hours after the notice issue date.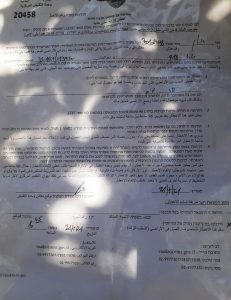 Notice number 20458 which targets a cistern that belongs to Dababsa
Dababsa pointed out that the cistern was built last year, and has a storage capacity of (100 m3) , and provides water for irrigation, farm and domestic use.
Dababsa, like many residents of his village, is suffering under arbitrary Israeli measurements, which demolished his structures several times, ravaged his lands and uprooted his trees.
Notifying an Agricultural Room:
In July 28th 2021, the Occupation Authorities served a demolition and removal notice for an agricultural room that belong to Foad Al-'Amour in Masafer Yatta.
The notice was numbered (20459) and threatened to demolish the room in 96 hours.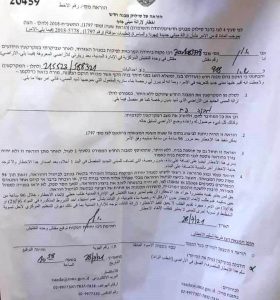 Notice number 20459 which targets Al-'Amour's structure
Reportedly, the targeted structure has a total area of 30 m2, built of steel and plastic sheets. And was built after the occupation demolished an agricultural structure in March 17th 2021.
To issue these notices, The Occupation Authorities referred to military order (1797) issued in 2018, and allows demolishing structures after 96 hours following the notices, but moreover, it deprives Palestinians from their right to object which was once their only hope.