Halt of Work Notice for a Water Harvesting Cistern in At-Tayba east Tarqumiya / Hebron Governorate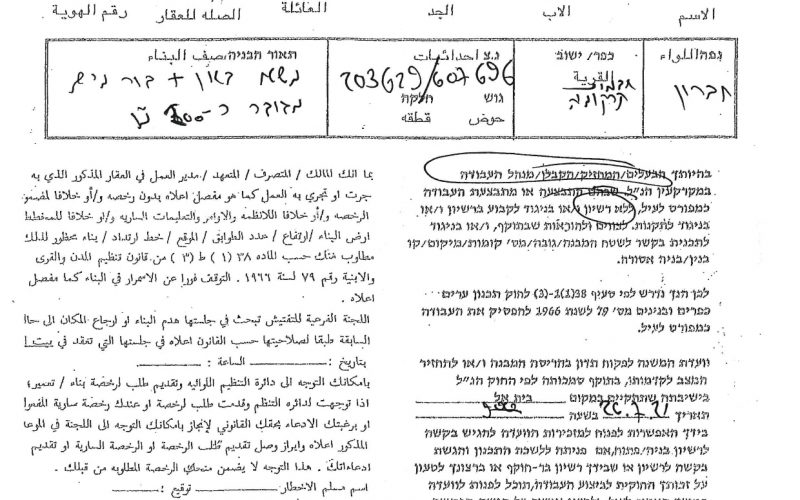 Violation: Halt of Work Notice.
Date: July 26th 2021.
Location: At-Tayba – Tarqumiya / Hebron Governorate.
Perpetrators: The Israeli Civil Administration.
Victims: Citizen Sami Tnainah.
Description:
Monday, July 26th 2021, the occupation authorities issued a halt of work order for a cistern, on the pretext of building without a license, in At-Tayba east Tarqumiya at Hebron Governorate.
The targeted facilities belong to citizen Sami Tnaineh (40 years) who found a notice hanged on the cistern. Noteworthy, the targeted water harvesting cistern has a storage capacity of 50 m3 , a baton floor leveled around the cistern (60 m2).
Tnaineh pointed out that the cistern was built long ago, and has a storage capacity of 50 m3. The water is harvested during winter to irrigate plants in a plot with a total area of 1770 m2 . The plot provides a subside source of income for a family of 9 (of which there are 6 children and 4 females including his mother).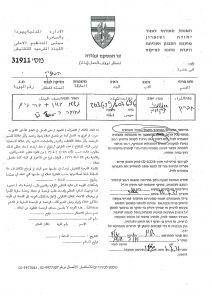 Notice number 31911 which targets Tnaineh's facilities
Under Notice (31911) , the occupation authorities ordered the immediate stoppage of construction works , on the pretext of building without a license, and sat July 26th , as the date of the inspection subcommittee in Beit El military court to decide the fate of the structure.
Noteworthy, the occupation authorities heavily target At-Tayba area east Tarqumiya with halt of work notices, and carried out several demolition operations against people of the area.
A glimpse on Tarqumiya town:[1]
The town of Tarqumiya is located 10 km to the west of Hebron, and it is bordered to the north by the towns of Beit Ula and Beit Kahel, to the west by Idna town, to the east by Hebron city and Tafuh town, and to the south by the towns of Tafuh and Dora.
Its population is 19,311 people as of 2017. The total area of ​​the village is 22,106 dunums, of which 2,117 dunums are a built-up area.
The total of 948 dunums of the town's land was seized for the construction of the two following settlements:
At least 442 dunums for Adora settlement established in 1982 and now inhabited by 191 settlers.
At least 506 dunums for Telem settlement established  in 1981 and now inhabited by 127 settlers.
Tarqumiya land classification by Olso agreement:
Areas classified as B constitutes 37% equal to 8,186 dunums.
Areas classified as C constitutes 63% equal to 13,920 dunums.
[1] GIS-LRC
Prepared by
 The Land Research Center
LRC