Wave of Notices in Masafer Yatta south Hebron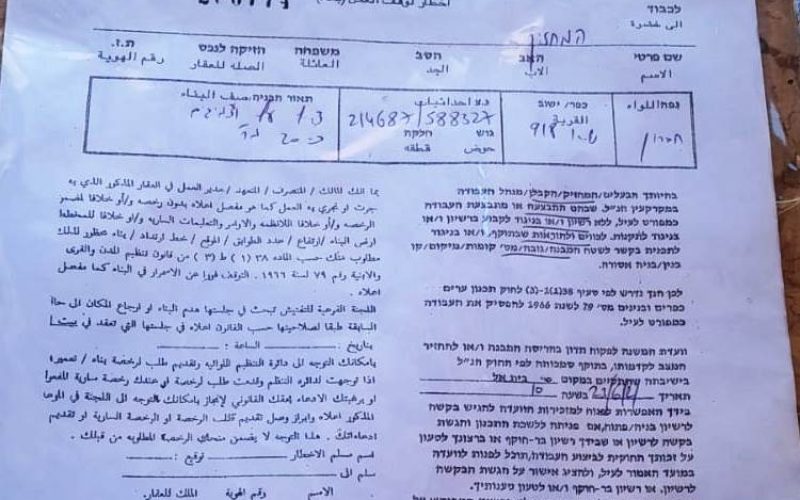 Violation: Halt of Work Notices and threats to ravage a road.
Date: June 2nd 2021.
Location: Masafer Yatta villages / Hebron governorate.
Perpetrators: The So-called Israeli Civil Administration.
Victims: people of Masafer Yatta.
Description:
Wednesday, June 2nd 2021, the occupation issued halt of work and construction notices for citizens' houses and threatened to demolish and ravage an agricultural road, on the pretext of building without a license in Masafer Yatta area south Hebron.
A vehicle related to the building and organization department and an army patrol raided Masafer Yatta , and the so-called construction inspector left the notices on the targeted buildings and roads.
Halt of work notices: The Occupation authorities served 3 halt of work notices for citizens' houses, and ordered the immediate stoppage of construction works, and sat July 21st as the date of the inspection subcommittee in "Beit El" military court to decide the fate of the structures.
The following table shows more information about the targeted structures:
Affected citizen

Family members

The targeted building

Area m2

Construction year

Notice number

notes

Raed 'Amour

10

House

50

2020

Building of bricks and steal sheets ceiling

Kitchen

10

2021

Tent built of plastic sheets

Bathroom

4

2021

Outdoor bathroom built of steel sheets

Jameel 'Amour

6

Bathroom

4

2021

Outdoor bathroom for the family

Foad 'Amour

6

Agricultural room

25

2021

Structure of steel sheets and woods at an agricultural land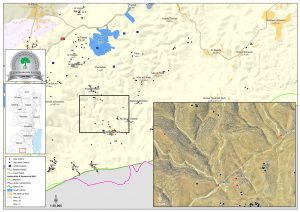 People from Masafer Yatta said that they found two notices at the entrances of Agricultural roads. Reportedly, the occupation authorities are threatening to demolish and ravage the roads after 3 days, here are additional information:
The road between She'ab Al-Butum and Al-Fakheet: The occupation issued a notice entitled "providing an additional chance to object on demolition notice number 504094 issued in July 19th 2017". the targeted road has a total area of 3 km. The village council of Masafer Yatta opened the road in 2017 to create connection between small villages around Masafer Yatta area.
1- The road between Khallet Ad-Dabe'a and Al-Fakheet: The occupation issued a notice for the road, and claimed to have sent a demolition order in 2019, and threatened to ravage the road in 3 days after the date of the notice. The targeted road is 3.5 km long opened by the village council in 2018, and was closed by the occupation forces.