Three facilities Demolished in Deir Sharaf village/ Nablus Governorate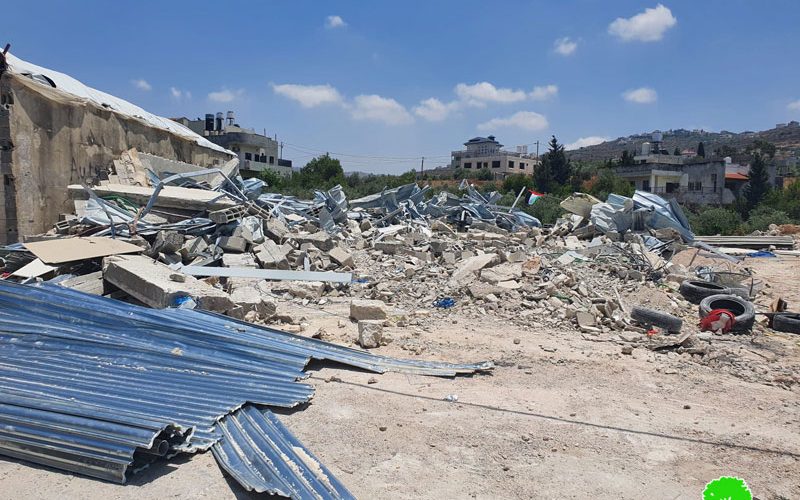 Violation: Demolishing structures.
Location: Deir Sharaf – Nablus Governorate.
Date: June 14th 2021.
Perpetrators: The Israeli Occupation Forces.
Victims: Three Citizens from the village.
Description:
Monday, June 10th 2021, The Israeli Occupation Forces accompanied by a heavy machinery raided Deir Sharaf Village west Nablus, and closed off Nablus-Tulkarm road , then carried out the demolition of three facilities on the pretext of building without a license in C area.
Mr.Murad Nasser a member of Deir Sharaf village council told LRC:
"A massive army force accompanied by heavy machineries raided the village and demolished three facilities built of cement and metal sheets."
 for more information about the targeted facilities see the table below:
| | | | | | |
| --- | --- | --- | --- | --- | --- |
| Affected Citizen | Age | Family members | Area of the facility m2 | Notice number | Photo # |
| Waleed 'Antari | 38 | 5 | 350 | | |
| Yacoub 'Antary | 45 | 5 | 350 | | |
| Rami Tbari | 38 | 8 | 80 | | |
  Source: Firsthand field observation – Israeli Violations Monitoring Section – Land Research Center – June 2021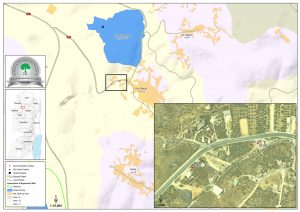 One of the Victims, Citizen Ya'coub 'Antary said that he found military notices hanged on the walls of three facilities in May 25th 2021, under the title "removal of a new building" within 96 hours.
Affected Citizen Ya'coub 'Antari assigned lawyer Lo'ay 'Arafat from Nazareth who received 45 thousand Shackles to defend the case, and he gave us hope until the last moment that he will manage to freeze the demolition order. However, in Monday June 16th 2021 a massive army force raided the area and targeted three facilities between Nablus- Tulkarm Street, then they closed off the main road and carried out the demolition, which left the owners with a financial loss that reached 600,000 NIS.
To issue these notices, The Occupation Authorities referd to military order (1797) issued in 2018, which targets under construction and uninhabited buildings. The Israeli Occupation carried out mass demolition operations based on this notice, which also deprives Palestinians from their right and chance to submit a petition.
About Deir Sharaf:[1]
It is located 7km northwest of Ramallah city. The village is edged by Burqa and Ramin from the north, Beit Lid from the west, al-Naqura and Sabastiya from the east and Qusin and Kfar Qadum from the south.
Deir Sharaf has a total population of 2460 people until 2007 and has a total land area of 7745 dunums of which 403 dunums are built-up area. The Israeli colonies looted 365 dunums from the village lands. The colony of Shavei Shomron was established on 365 dunums from the village in 1977 and now populates around 604 colonists. In addition, the bypass roads no. 60 and 557 devoured 823 dunums from the lands of Deir Sharaf as well.
The village lands are classified as (C&B) according to Oslo Accords where area B represents 20% and area C represents 80% of the lands. The percentage in dunums is as follows:
1540 dunums are classified as area B.
6206 dunums are classified as area C.
[1] GIS-LRC