The Occupation Halts Work for an Agricultural Facility in Jubara village / Tulkarm governorate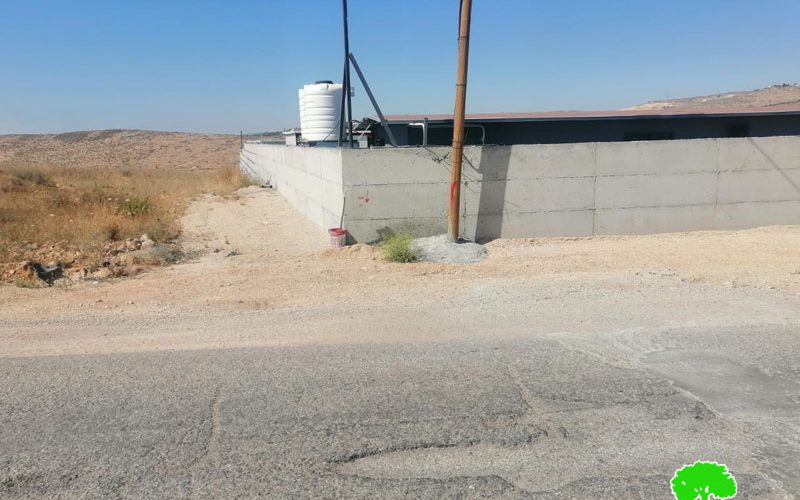 Violation: Halt of Work notice for an agricultural facility.
Location: Jubara village / Tulkarm Governorate.
Date: June 2nd 2021.
Perpetrators: The Israeli Civil Administration.
Victims: Citizen Bassam Balo'um.
Description:
Wednesday, June 2nd, the so-called construction inspector of the civil administration gave citizen Bassam Balo'um from At-Tayba town a notice (31577) , The notice ordered to stop work on a farm he owns on the pretext of building without licenses.
According to the notices, the occupation sat June 23rd 2021, as the date of the inspection subcommittee in Beit El military court to decide the fate of the structures.
Photos 1-4: The targeted plot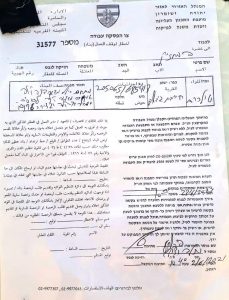 Notice 31577 that targets the farm
Details About the targeted structures:
Baton walls that surround a 3 dunums plot.
Stables inside the farm (190 m2) built of zinc.
Bricks room and a zinc ceiling with a total area of 24 m2.
Baton floor with a total area of 250 m2.
The owner has a farm and lives out of breeding horses, he is also the supporter of a family of 14, 3 of them are children.
Jubara village is heavily targeted by the Israeli occupation, a large number of structures received halt of work notices, LRC documented number of violations including:
About Jubara:  [1]
7 km to the south of Tulkarem city , Jubara is border by Faro'un village (north), occupied territories of 1948 (west), Shofa village (east), Kafl Al-Jamal and Flamiy (south) . Its population mounts to 313 according to 2017 census.
Families of the town: Jubara, Mahmoud, Awad and Odeh. The town has a total area of 46,914 dunums , of which 73 dunums are the town's built up area.
Israeli settlements devoured 1068 dunums of the town's land:
Sal'it settlement (1977)  devourd 921 dunums and populated 441 settlers.
Ya'arit devoured 147 dunums.
The segregation wall devoured 1531 dunums, and isolated 12,212 dunums.
Oslo conventions divided Jubara into B and C areas:
B area : 29862 dunums.
C area: 17052 dunums.
[1] GIS-LRC