Setting Up a metal gate on Deir Nitham Village entrance / Ramallah governorate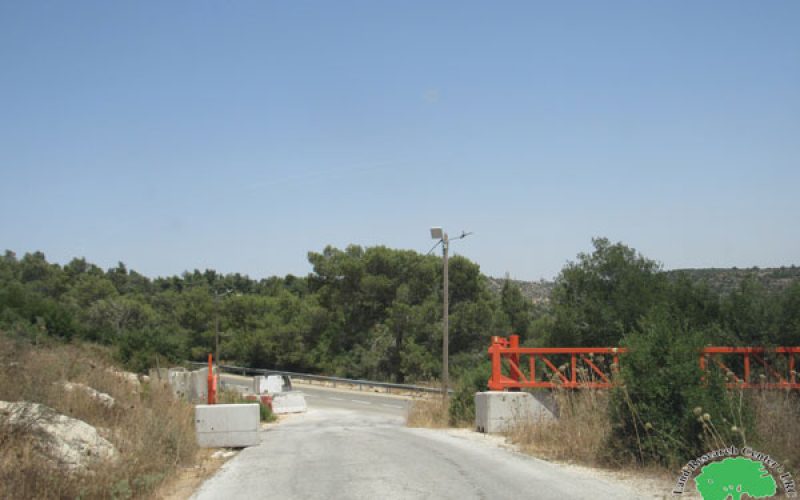 Violation: closure of roads.
Location: Deir Nitham village / Ramallah governorate.
Date: June 1st 2021.
Perpetrators: The Israeli Occupation Army.
Victims: People of Deir Nitham village.
Description:
Tuesday, June 1st 2021, The Israeli Occupation Forces installed  a metal gate on the southern entrance of Deir Nitham village north Ramallah, nearby the road that leads to "Halmish" Colony.
Activist Kashef Al-Barghouthi told LRC the following:
"This entrance is one of the main roads that connect Deir Nitham to villages southwest Ramallah including (Beitillu , Deir 'Ammar , Jamala), in case this entrance was closed off people will have to take another road at the northern entrance and Halmish military roadblock , the alternative road is 4 km longer, which will impose new difficulties on movement."
The entrance was closed between 2000 and 2016 with roadblocks and earth mounds, then it was reopened, now the occupation is installing a gate to control movement, which is part of collective punishment policies practiced by the Israeli occupation against Palestinians.
Noteworthy, the Israeli occupation installed a metal gate on the northern entrance of the village, the village became completely isolated. Which aims to protect colonies illegally built on confiscated lands from Deir Nitham. The three main road that lead to the village are controlled by the occupation through metal gates. In other words: the village became a big prison where the occupation controls all kinds of citizens' movement and activities.
Photo 1: The new metal gate
About Deir Nitham village:[1]
25 kilometers north west Ramallah, Deir Nitham village is surrounded by An-Nabi Salih and Bni Zeid Al-Gharbeyeh towns (north) , 'Abud (west) , Kobar and  Umm Safa (east) and Beitillu (south). It has a population of 876 people in 2017 census.
Deir Nitham has an area of 2,758 dunums , 161 of them are a built up area of the town, the Israeli illegal occupation confiscated parts of the towns' lands for the following purposes:
"Hallamish" illegal settlement confiscated more than 604 dunums, est5ableshed in 1977.
Bypass roads (450 and 465) confiscated over 250 dunums.
The land is divided according to Oslo convention to B and C areas:
Area B: 128 dunums.
Area C: 2,630 dunums.
 Legal Feedback:
International conventions and agreements related to freedom of movement:
Article 3 of the Universal Declaration of Human Rights provides that "everyone has the right to life, liberty and security of person." 
Article 5:No one shall be subjected to torture or to cruel, inhuman or degrading treatment or punishment.
Article 9 that "no one shall be subjected to arbitrary arrest, detention or exile"
Article 13: Right to freedom of movement
Everyone has the right to freedom of movement and residence within the borders of each State.
Everyone has the right to leave any country, including his own, and to return to his country.
[1] GIS-LRC