Radical Colonists Attack Palestinian Properties in Turmus'ayya / Ramallah Governorate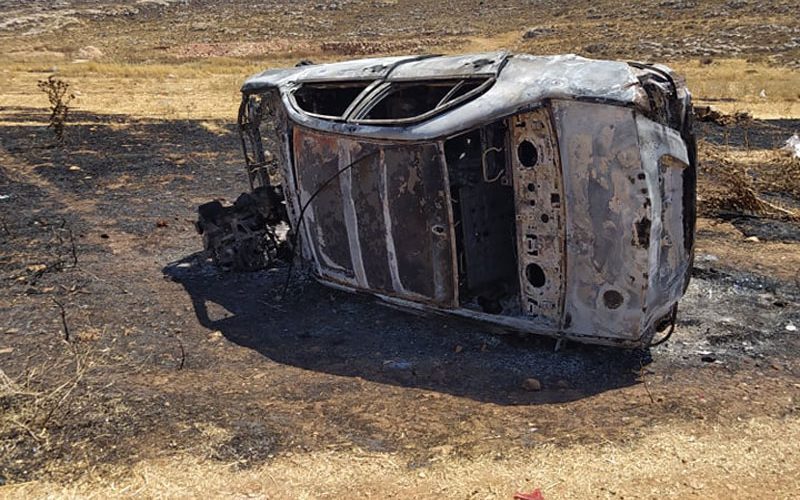 Violation: Colonists cut down olive trees and set fire to a vehicle, mobile room, and a retaining wall.
Location: Turmus'ayya town / North Ramallah.
Date: June 26th 2021.
Perpetrators: Colonists' gangs.
Victims: Number of Citizens from the town.
Description:
Saturday afternoon, June 26th 2021, a group of colonists raided Turmus'ayya area and carried out a vicious attack. In details, about 50 colonists with civilians clothing raided a plot at the village and sabotaged a siege, cut down olive saplings, and sat fire to two cars in the area belong to farmers from Al-Mughayyir. In addition, the Fanatic colonists sat fire to a mobile room, a motor, and wooden boards kept for construction. They nevertheless demolished a bricks wall belong to An-Nabali company, before running away to the nearby outpost.
The Following table shows more information:
#

Victims

About the damages

1

Wade'a Abu 'Awad

–         Cutting 65 olive saplings aging 4 years planted on 4 dunums.

–         Sabotaging a part of siege around a plot (12 m long).

2

Tha'er An-Na'san

–         Setting fire to a Subaru Car.

3

Rasmi An-Na'san

–         Setting fire to a Peugeot 301 car.

4

An-Nibali Compani

–         Destroying a part of a retaining wall (60m * 1.5 m).

–         Setting fire to a mobile room (36 m2).

–         Setting fire to wood boards.

–         Sabotaging a motor.
Source: Firsthand field observation- Israeli Violations monitoring section – Land Research Center, June 2021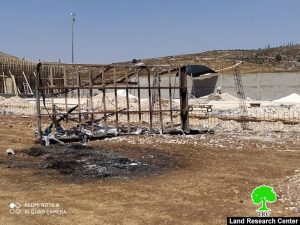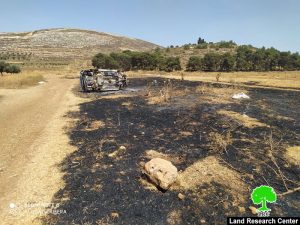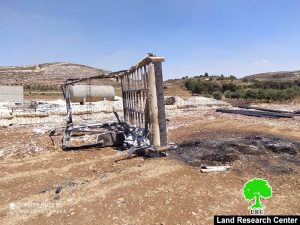 Scenes from the site of the assault
One of the victims Wade'a Abu 'Awad told LRC:
"Since colonists illegally built an outpost in Al-Marba'a area one year ago , we've been suffering everyday from colonists assaults, they cut down number of olive saplings , and sat fire to crops , attacked farmers. We filed several complaints to the occupation police, but it never opened a serious investigation." 
About Turmus'ayya:[1]
25 km to the north east of Ramallah city, Turmus'ayya  has a population of 2464 people (2017 census) most of them belong to two measure families : Awad and Jbara, In addition to other small families who located themselves in the town after 1948 : Shalabi, Kouk and Hezmawi.
Its total land area is 18139 dunums,2464 of which 1350 dunums are considered built-up area. About 11218 dunums of  Turmus'ayya lands are classified as  Area B (PA is in charge of civil matters with Israel responsible of security) where 6921 dunums are classified as  Area C (Israel maintains full security and administrative control).
The Israeli occupation confiscated vast areas from the village for the benefit of the following colonies:
Shilo and Mizpe Rahel devoured 1023 dunums
Mizpe Rahel  devoured 706 dunums
The bypass road number 60 stole 12.5 dunums
[1] GIS-LRC