Halt of Work and Demolition Notices for Structures in Kisan village / Bethlehem City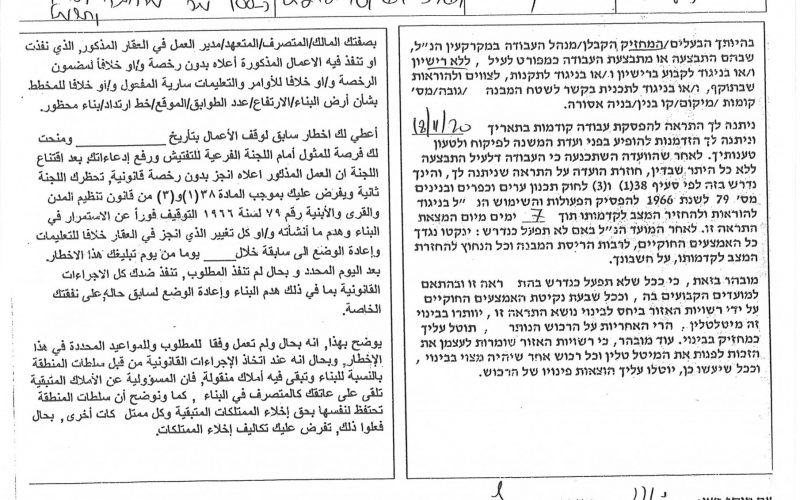 Violation: Halt of Work and Demolition notices.
Location: Kisan village / Bethlehem Governorate.
Date: June 30th 2021.
Perpetrator: The Israeli Occupation Forces and Civil Administration.
Victims: Omar Al-'Ebeyat and Hussain Nabaheen.
Description:
June 30th, The Israeli Occupation Civil Administration raided Kisan village, and notified Citizen Omar Al-'Ebeyat and Hussain Nabaheen with a final demolition order on the pretext of building without a license.
In November 18th 2020, a halt of work notice was served to the family , after the family objected, the occupation gave another notice , followed by a halt of work order and an order to return the plot to its previous status within 7 days.
One of the affected, Hussain Al- 'Ebeyat Wife told LRC:
"The civil administration officer threw the halt of work notice on the door front, we built the barn so we can build for our son in the future, our children already grew up and need to establish an independent life."
The following table shows more information about the notices:
| | | | | |
| --- | --- | --- | --- | --- |
| Affected citizen | Family members |  Area of the building m2 | The targeted building | Notice number |
| Omar Al-'Ebeyat | 12 | 200 | House / two floors / Under construction | |
| Hussain Nabaheen | 8 | 100 | Bricks structure used as a barn | |
The Israeli Occupation and its Colonists continue ongoing measurements that prohibit Palestinians from using and exploiting their lands. Every new structure receives a demolition order, the Israeli occupation hinders Palestinian expansion at the area, while on the other hand Israeli colonists are expanding rapidly on Palestinian lands.
Kisan:[1]
Located 18km south of Bethlehem, Kisan village is surrounded by Tuqu' (north), Sa'ir (west), the Dead Sea (east), Arab ar Rashayda/ Sa'ir/ Al Buweib (south). Kisan has a population of 560 people (2017 census). It has a total area of 133,278 dunums- 88,7 of which are built-up area. The Israeli occupation confiscated 2201 dunums of Kisan lands to build the following colonies:
Maale Amos which was built in 1981 and devoured 320dunums of Kisan. It is inhabited by 299 colonists.
Mizpe Shalem which was built in 1971 and confiscated 396 dunums. 193 colonists live in that colony.
Mizpe Shalem B which was built in 1980 and stole 58 dunums.
Ibei Hanachal outpost which confiscated 166 dunums of Kisan.
Israeli Bypass road number 90 devoured more than 1000 dunums.
According to Oslo Accords, 11% of Kisan is considered nature reserve while 40% is under Area B (PA is in charge of civil matters with Israel responsible for security). However, most of the village lands (49%) is under Area C (Israel maintains full security and administrative control). Here are the areas in dunums:
Land considered natural preserve (24.480) dunums
Area B (88.5) dunums
Area C (108.455) dunum
[1] GIS-LRC