Demolition of a Car Wash and Threatening Another Structure in Jinsafut village / Qalqilya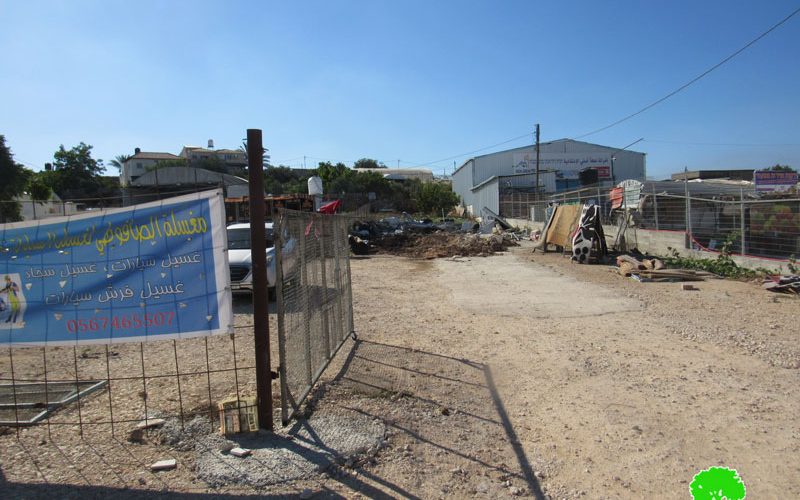 Violation: Demolition notice for a car wash, and a halt of work notice for a restaurant.
Location: Jinsafut village east Qalqilya.
Date: June 17th 2021.
Perpetrators: The building inspector at the Israeli Civil Adm8inistration.
Victims: Citizen 'Izzat Abu Ash-Sha'ar.
Description:
Thursday June 17th 2021, The Israeli Occupation Forces accompanied by the building inspector at the Israeli Civil Administration raided Jinsafut village , and the occupation's bulldozer carried out a demolition operation for a car wash on the pretext of building without a license. The notice was issued in reference to Military Order (1797).
The targeted car wash belongs to citizen 'Izzat Abu Ash-Sha'ar from the village who received a demolition and removal notice for the car wash he owns in May 25th 2021, the targeted citizen supports a family of 6 (one of them is a child), and depends on the car wash to provide for his family.
Reportedly, the damages included demolishing and ravaging a pergola built of a metal body and plastic sheets with a total area of (48 m2) in addition to walls of bricks, and a baton floor (100 m2).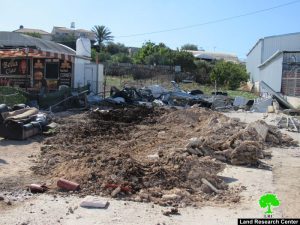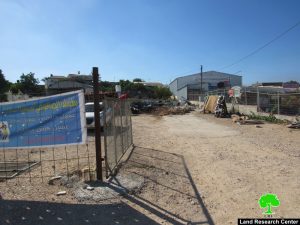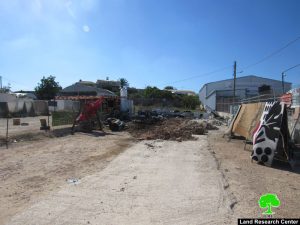 Photos 1-3: The car wash after the demolition and ravaging
In the same context, the building inspector at the Israeli Civil Administration gave citizen Zaho 'Allan 50 years a halt of work notice for his restaurant near by the car wash, the restaurant is built of bricks and zinc with a total area of 16 m2, and serves fast foods.
According to notice number (315781) the occupation sat July 5th , as the date of the subcommittee session in Beit El military court to decide the fate of the structure.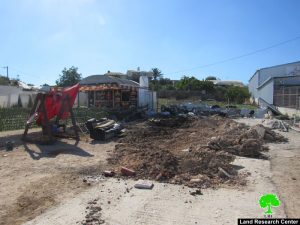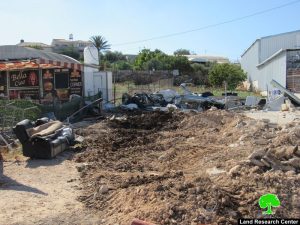 Photos 4-5: The restaurant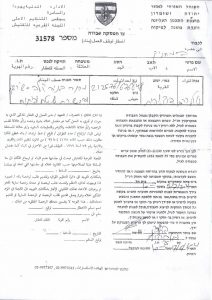 Attachment of the military order
The targeted restaurant was established late last year , and provides support for a family of 7, 3 of them are children.
Jinsafut village: [1]
It is located 15 kilometers south east of the city of Qalqilia. Its total area is 8,659 dunums including the 218 dunums build-up area. Its population is estimated to be 2,500 with an unemployment rate reaching up to 78 %. The village is a victim of Israeli colonies as more than 688 dunums were confiscated for the purpose of establishing and expanding the colonies of Neve Oraniem (538 dunums) and Karni Shamron (150 dunums). 
 Legal Feedback:
Demolishing Palestinian houses and facilities is a violation of international law:
Article 147 of Geneva fourth convention : extensive destruction and appropriation of property, not justified by military necessity and carried out unlawfully and wantonly. ( it is considered a serious violation of the convention)
Article 53 of Geneva fourth convention that forbids destroying properties : Any destruction by the Occupying Power of real or personal property belonging individually or collectively to private persons, or to the State, or to other public authorities, or to social or co-operative organizations, is prohibited, except where such destruction is rendered absolutely necessary by military operations.
Article 33 of Geneva fourth convention: No protected person may be punished for an offence he or she has not personally committed.
Article 32 of Hague convention 1907 part g: To destroy or seize the enemy's property, unless such destruction or seizure be imperatively demanded by the necessities of war.
Article 17 of Universal declaration of human rights 10 –Dec- 1948:  No one shall be arbitrarily deprived of his property.
[1] GIS-LRC