Demolishing an Under Construction House in Bruqin  / West Salfit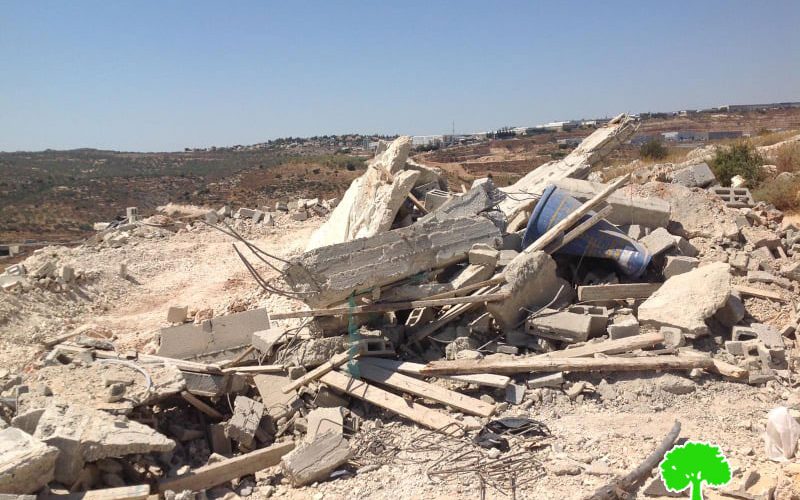 Violation: Demolishing an under-construction house.
Location: Bruqin town / West Salfit.
Date: June 30th 2021.
Perpetrators: The building inspector at the Israeli Civil Administration.
Victims: Citizen Musa Abu Tbaikh.
Description:
Wednesday afternoon June 30th 2021, the Israeli Occupation building Inspector at the Civil Administration raided Bruqin town west Salfit. A Civil bulldozer carried on demolishing an under-construction house with a total area of (200 m2) in Al-Baqa'an area northeast the town, the targeted house belongs to Musa Abu Tbaikh from the Occupied village of Kafr Qassim.
The targeted house is built on a hill that overviews the Burkan industrial area, the plot belongs to Musa Abu Tbaikh who received a military order in June 15th 2021. The notice was entitled removal of a new building, and issued in reference to military order 1797 that prohibits Palestinian construction in C area.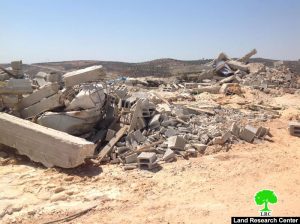 Photo 1: Abu Tbaikh family house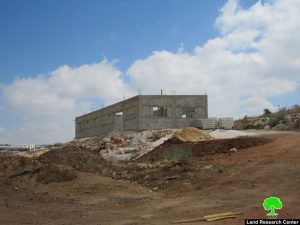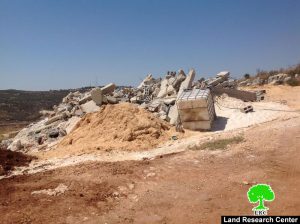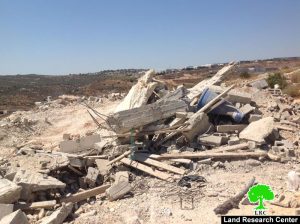 Photos 2-4: The house after the demolition
The owner supports a family of 9 of which (2 children and 4 females), and works in commerce and other free jobs.
During June, the occupation served halt of work notices for several structures and facilities including house of citizen Musa Abu Tbaikh.
Bruqin town is heavily targeted with halt of work and demolition orders, about 27 structures received halt of work notices according to the municipality. Most notices are in areas like (Al-Baqa'n) and (Al-Matwi). Noteworthy, the town became blocked on both sides by illegal Israeli colonies:  Barkan industrial colony and Bruchin.
 Bruqin village:
The village of Bruqin is located 10 km from the western side of the city of Salfit and it is bordered by Haris, and on its lands was established the Industrial Zone affiliated to  "Ariel" settlement. Its population is 4,174 people according to the 2014 census.Its total area is 12,285 dunums, of which 704 dunums are a built-up area.
The occupation confiscated an area of ​​(3,385) dunams of its lands, for the following purposes:
–  ​​3,334 dunums of the village's lands for Israeli settlement construction;
– 503 dunums for the building of the Expansion and Annexation Wall;
–  785 dunums for the construction of the 7,855 m long Wall path, in addition to annexing 5,159 dunums behind it.
Classification of village land according to the Oslo Agreement:
Area Classified as A (1,000 dunums).
Area classified as B (4,376 dunums).
Area classified as C (6,905 dunums).
Prepared by
 The Land Research Center
LRC