Colonists set fire to Bales of Hay east Yatta / Hebron Governorate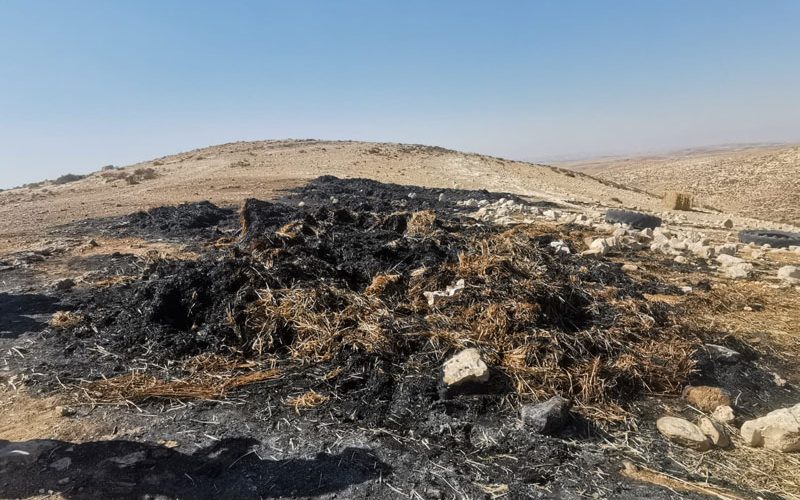 Violation: Setting Fire to bales of hay.
Date: June 1st 2021.
Location: Tuba – Yatta town / Hebron Governorate.
Perpetrators: "Havat Ma'on" Colony.
Victims: Citizen 'Ali 'Awad.
Description:
Tuesday, June 1st 2021, Havat Ma'on colonists sat fire to Hay bales belong to Ibrahim 'Awad in Tuba village – Masafer Yatta.
'Ali 'Awad (23) told LRC the following:
Youngman 'Ali 'Awad  (23) told LRC: "We noticed suspicious colonists activities in the afternoon of the attack day , we tried to follow their movement worrying that they may attack one of the surrounding plots , which has became a daily routine for them."
About 11:00 pm, we saw flames eating up bales of hay 200 m away from their house. Noting that his father Ibrahim 'Awad bought about 41 bales, each one cost 380 NIS (120 $), The total loss amounted to 4920 $. The family has a herd (400 head of Sheep) , and the bales were used to feed the herd.
'Awad pointed out, once we saw flames eating up the bales, we called our neighbors to help us kill the fire. Then we called protection committee members, who called the civil defense forces, and while we were waiting for the fire fighters, we heard firing at a nearby location.
Our neighbors tried to save some bales of hay, but couldn't due to their heaviness (each one is 500 kg) and we didn't have a bulldozer to help us in the process.
When fire fighters had arrived at Tuba, all the bales were already eaten by the flames. The road is rough and far and illegal Israeli colonists attack and hinder vehicles at the road.
'Awad pointed out that they called the Israeli Police as the fire was on, but the police did not show up at the location, and at the next day his father went to the police station in "Kiryat Arba'a" and gave a written compliant.
'Awad said that the occupation police did not arrive at the location, despite the fact that his father Ibrahim followed correct legal procedures for the complaint, and he hired a lawyer to follow up the case.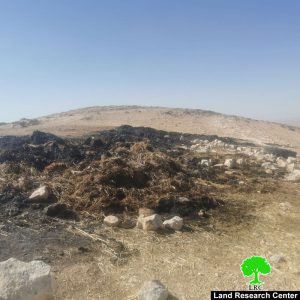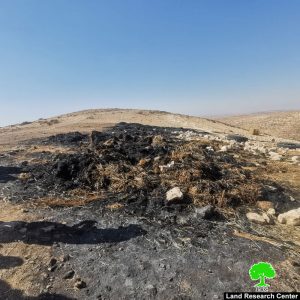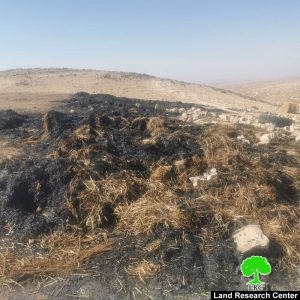 Tuba village:[1]
Located at the east of At-Tawani village, Tuba is one of Masafer Yatta villages. Tuba has a population of 100 people, living in residences of steels sheets and tents, and live out of cattle breeding. The village witnesses' assaults from colonists, the occupation forces, and the so-called civil administration. Read our reports about violations at the village:
[1] GIS-LRC