Colonists attack a farm in Jaloud village / Nablus Governorate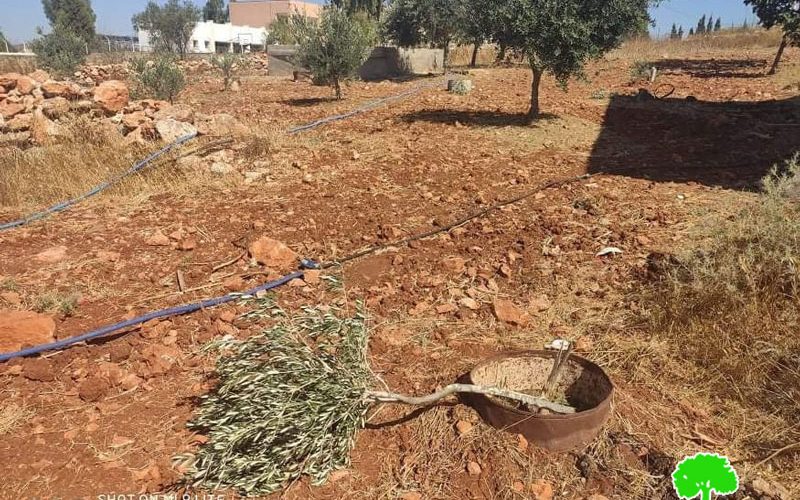 Violation: Cutting olive saplings and stealing a generator.
Location: Jaloud / South Nablus City.
Date: June 28th 2021.
Perpetrators: Ahiya Colonists.
Victims: family of Hashim Hamoud.
Description:
Monday, June 28th 2021, a group of colonists from "Ahiya" colony raided an area southeast Jaloud village, and attacked a farm that belongs to citizen Hashim Hamoud . The attack included stealing anirrigation network, electricity cables and the olive trees, the targeted location is 200 m away from the village houses.
Farmer Hashem Hamoud (59) told LRC:
"About 7:00 of Monday morning I went to my plot , and I found 125 olive saplings uprooted , the only vine tree was also uprooted and thrown to the ground the farms' generator had also disappeared.
The perpetrator (colonists) tried to get into the shack and steal the sheep , but a neighbor heard their noises , and called other neighbors they rushed to the area to stop them , so they ran to Ahiya illegal colony."
About Jalud:[1]
Jalud is located 29km to the southeast of Nablus city and is edged by Qusra village from the northeast, Qaryut village from the west, Yesh Kodish and Ahya outposts from the east and Shilo colony from the south.
Its population mounts up to 598 people (2014 census). Jalud's total land area is 22,473 dunums, of 80 dunums are considered the village's built-up area.
Israeli colonies confiscated 2227 dunums from Jalud lands. Shilo colony that was established in 1978 confiscated 640 dunums from the village. Mizpe Rahel colony and other outposts namely (Yesh Kodish, Ahya, Eli, Adi Ad and Kida) are founded on confiscated lands from the village.
Bypass roads confiscated around 436 dunums from the village.
The lands of Marda are classified according to Oslo Accords as the following:
5541 dunums (25%) are classified as area B.
16932 dunums (75%) are classified as area C.
[1] GIS-LRC